Joni Eareckson Tada tests positive for COVID: 'Thank you for your prayers'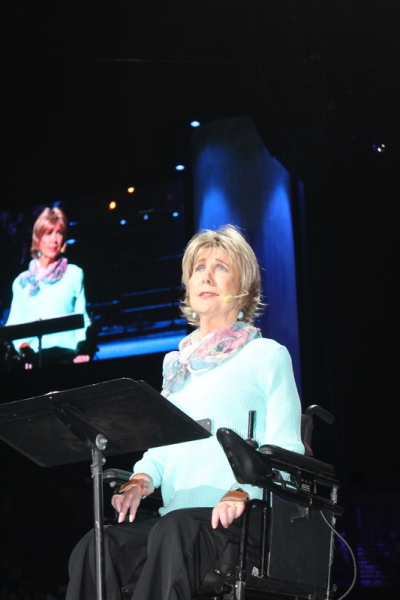 Author and disabilities advocate Joni Eareckson Tada has tested positive for COVID-19 and is currently receiving monoclonal antibodies treatment, her ministry announced. 
In a statement released Monday, Joni and Friends, an organization that accelerates Christian outreach in the disability community, revealed the 71-year-old Bible teacher tested positive for the virus after exhibiting "flu-like symptoms." The ministry asked supporters to pray as Tada undergoes treatment.
"While we know this diagnosis has not taken Jesus by surprise, we are interceding for Joni's health, strength, and confidence in God's good purposes," the update read. "We have seen God protect her from two bouts of cancer and we know he can do it again! Thank you for joining us in prayer!"
Tada also shared an update on her Facebook page and thanked supporters for praying for her and her husband, Ken, following her diagnosis. 
"As I read the many comments from friends like you, wow… I am deeply humbled that the Holy Spirit has garnered so much prayer support for us. I don't deserve it, but I sure do appreciate it! Thank you for asking God to grant me strength, increased faith, a singing heart, and sure hope!"
Tada said that as she begins her road to recovery, she keeps "thinking of the untold numbers of people with disabilities all around the world who do not have access to medical help."
"I'm so grateful for my care and that I can pass the blessing on through the work of Joni and Friends," she wrote. 
"Thank you again for your prayers – I want to be fit and ready to tackle the work of the ministry in 2021 as we provide tangible help that reaches more people living with disability for Christ!"
The Joni author, who married her husband, Ken, in 1982, became quadriplegic over five decades ago in a diving accident. She survived stage III breast cancer in 2010, but was once again diagnosed with cancer in November 2018. Following several months of treatment, she was declared cancer-free in July 2019.
In an interview with The Christian Post, Tada shared how hymns have sustained her through numerous trials.
"Living with chronic pain, it can be easy to feel defeated and lifeless," she said. "Having a 'hymn of the day' and memorizing it has helped shore up my faith and aid me when trials hit me broadside."
Tada told CP that the "first thing" she'll do in Heaven with her new, glorified body is drop to her knees and offer a sacrifice of "paralyzed praise" to Jesus for His faithfulness to her while on earth. 
"We don't know what Heaven is going to be like; we only have a glimpse and vague understanding, but we know Jesus is going to be there," Tada said.
"I don't know how it's all going to fit, but right before the wedding supper and the guests are called in, right before we get started with the feast, I want to be able to kneel at the Lord's feet and give Him that paralyzed praise. It's the only way that I'll be able to show Him a true sacrifice."
Suffering, Tada said, has opened her eyes to the beauty, glory, and hope of Heaven.
"Down here on earth we have many opportunities to offer sacrifices of praise, but in Heaven, there won't be that opportunity," she continued. "There will be no chance for sacrifice or chance to share the Gospel or ask for the salvation of others. Only in Heaven will I be able to offer an actual sacrifice because although I'll be able to enjoy my glorified new body — which will be an amazing gift — to suddenly drop to my knees and not move when it's my joy and right to move, will be my joy and a real sacrifice."
Tada urged others experiencing chronic pain, disease, or other hardships to allow their weaknesses to drive them to the arms Christ. 
"I wake up discouraged and in chronic pain. I wake up feeling overwhelmed that I've got to face a two-hour routine of a friend giving me a bed bath and a toileting routine, brushing my teeth, getting me dressed, and brushing my hair," she admitted. "There are some mornings I wake up and I'm overwhelmed, and the day hasn't even started. I say, 'Jesus, I can't do this, and so Jesus, I need you to.'"
Tada noted that during His sermon on the mount, Jesus said, "Blessed are the poor in spirit" (Matthew 5:3).
"When you wake up and come to God in spiritual poverty, the joys of Heaven are yours; the power of the Resurrection is yours to live," she explained. "Glory in your weaknesses, for then you know Christ's power rests in you. He pours out His grace on those who acknowledge their weakness."
"For those who are feeling defeated and lifeless, wake up and say, 'I'm going to allow this to drive me to Jesus.' I don't just need Him day by day, but hour by hour, minute by minute. I think that's the best way to wake up in the morning. Don't be ashamed of those weaknesses, but use the enemy's power against himself to secure victory.
"I'm going to let the forces of this hurt and pain drive me to the cross."