Justin Bieber Gives Impromptu Worship Concert Performance Outside Buckingham Palace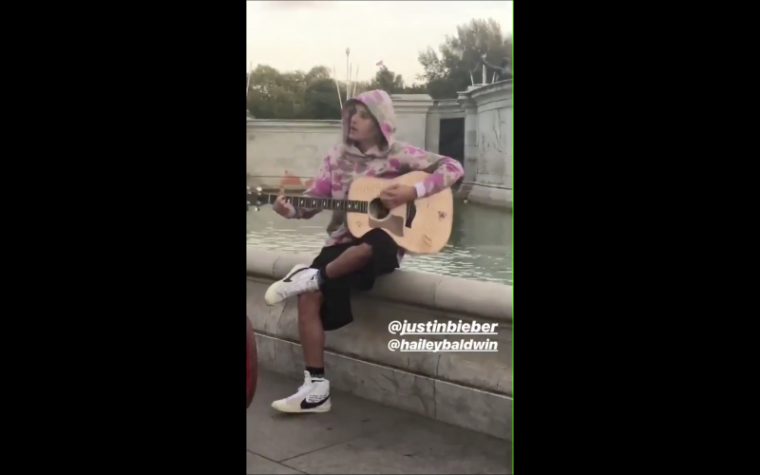 Pop star Justin Bieber and his fiancee, Haily Baldwin, were recently spotted in London performing an impromptu worship concert outside of Buckingham Palace.
With his acoustic guitar in hand, Bieber, 24, sat down at the edge of a fountain and began singing. Among his song selections, fans captured Bieber singing the song "Good Good Father" by Housefires.
VÍDEO: Justin Bieber fazendo serenata para Hailey Baldwin cantando "Good Good Father" da banda Housefires hoje em frente ao Palácio de Buckingham em Londres, Inglaterra - 18 de setembro. pic.twitter.com/AFNYNKjoM2

— Daily Jailey Brasil (@dailyjaileybr) September 19, 2018
Baldwin, 21, looked on in admiration as the crooner sang the lyrics, "You are perfect in all of your ways." The singer momentarily stopped singing to profess his love to his soon-to-be wife.
"I love you babe. I love you so much," he gushed.
Several media major media outlets reported that Bieber and the popular model married in a civil ceremony at a courthouse in New York. But the young couple denied being married and will reportedly have a big wedding. Bieber popped the question in the Bahamas in July.
"Hailey I am soooo in love with everything about you! So committed to spending my life getting to know every single part of you loving you patiently and kindLY. I promise to lead our family with honor and integrity letting Jesus through his Holy Spirit guide us in everything we do and every decision we make," Bieber wrote on Instagram when announcing his engagement.
Bieber, who in recent years has said he's committed to living out his Christian faith, ended the post by quoting Proverbs 18:22, which states: "He who finds a wife finds a good thing and obtains FAVOR from the Lord!"
"This is the year of favor!!!!" he ended.
TMZ first broke the news of the couple's engagement. They have been romantically involved on and off for the past three years.
Bieber's transformation has been widely associated with the mentoring he's received from Hillsong NYC Church Pastor Carl Lentz. The well-known minister is credited with bringing the pop star back to his faith and baptizing him. Baldwin has also been seen many times attending Lentz's church and running in the same Christian circles as Bieber.
Baldwin, daughter of Christain actor Stephen Baldwin, likewise mentioned God when celebrating her engagement on Twitter.
"Not sure what I did in life to deserve such happiness but I am so utterly grateful to God for giving me such an incredible person to share my life with! No words could ever express my gratitude," she tweeted.