Kanye West: I Made That Song Because I Am God
Kanye West has caused some controversy after naming one of his new songs "I Am God" and now the 36-year-old rapper is revealing the inspiration behind the title.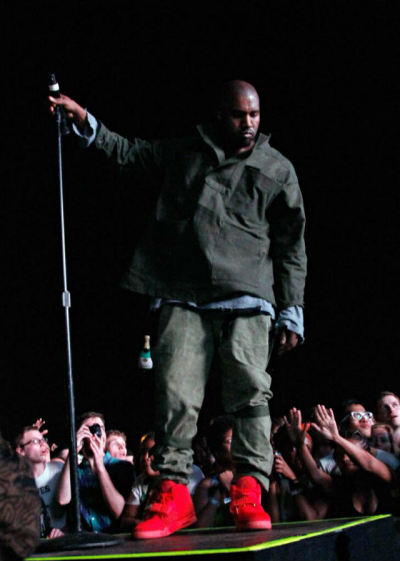 West's "I am God" is a song featured on his recent album "Yeezus." The boisterous rapper recently revealed that the song's inspiration came about when he was denied access to some shows at last year's Paris Fashion Week.
"So the next day I went to the studio with Daft Punk, and I wrote 'I Am a God'... Cause it's like, Yo! Nobody can tell me where I can and can't go," West told W Magazine recently. "Man, I'm the number living and breathing rock star. I am Axl Rose; I am Jim Morrison; I am Jimi Hendrix."
The rapper likened the shunning in Paris to blasphemy.
"You can't say that you love music and then say that Kanye West can't come to your show! To even think they could tell me where I could and couldn't go is just ludicrous," West told W. "It's blasphemous- to rock 'n' roll, and to music."
West outright explained that the song title was a literal reflection of his feelings about himself.
"I made that song because I am a god. I don't think there's much more explanation," West told W. "I'm not going to sit here and defend (expletive). That (expletive) is rock 'n' roll, man. That (expletive) is rap music. I am a god. Now what?"
While West has not been willing to open up to the media in the past few years, he explained the controversial decision to name is album "Yeezus" recently.
"I wanna explain something about the title Yeezus, simply put West was my slave name and Yeezus is my god name," West said at his recent New York City listening party, according to MissInfo.tv.
In "I Am God" the rapper, whose nickname is Yeezy, seems to expand on the ideology further.
"I am a god / hurry up with my damn massage / hurry up with my damn menage / get the Porsche out the damn garage …. I am a god / even though I'm a man of God / my whole life in the hands of God / see y'all better quit playing with God … I Am God."
Kanye West - I Am A God