Kerry Washington says her marriage, husband and children 'are proof of God to me'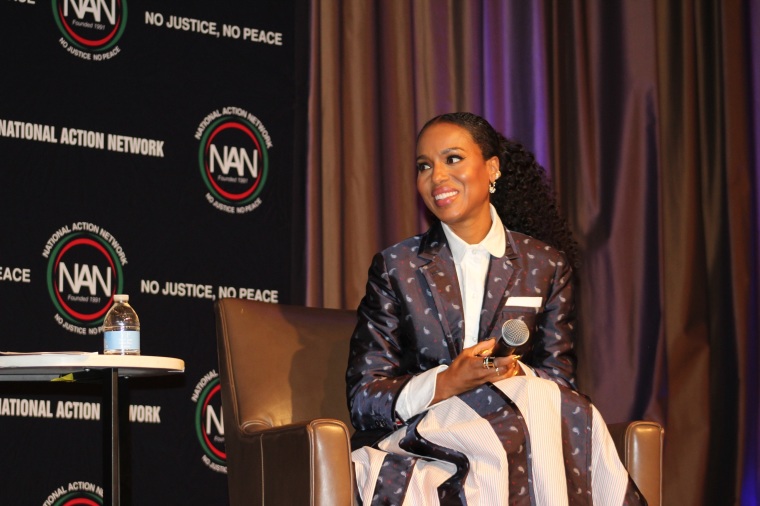 NEW YORK — Renowned actress, producer and activist, Kerry Washington, who stars in the Hulu series "Unprisoned," says she sees "proof of God" in her marriage, husband and three children.
Washington, who is married to fellow actor, producer and former football cornerback, Nnamdi Asomugha, made the comments during a conversation about voting rights with controversial MSNBC commentator and civil rights activist Al Sharpton at the National Action Network Convention on Wednesday.
During the conversation, Sharpton, who founded NAN in 1991, asked Washington, who is well-known for playing the lead character Olivia Pope in the TV series "Scandal," how marriage and motherhood had changed her and how she was able to manage those roles while still maintaining a career. She credited her husband and the love of God.
"Well, you've met my husband, my husband's amazing. I got a good one," Washington replied.
"We have three beautiful children. And I think, you know, when I look at my marriage, and I look at my kids, fundamentally, they are proof of God to me," she continued. "Because I know that God loves me to have put those people in my life. And that sense of like, knowing that God loves me. That, to me, is so much of how I make the decisions about the activism that I do and the content that I make. "
Washington, who told Sharpton that she tries to choose roles that aren't degrading to women or the black community, noted that "every one of us deserves to know how loved we are. And that we are the hero of our own journey, [and] that we each deserve to be at the center of the story of our lives."
"To me, that's why we have to have movies that have black women as the lead and black men as the lead, and TV shows that bring humanity to formerly incarcerated folks. But it's also why we have to remind people that they matter when it comes to voting. Because you can be the hero of the journey of your community; you can be the change-maker in the world around you," she said.
Washington who will also be releasing her memoir this September titled, Thicker Than Water, explained that when she first started doing advocacy to encourage people to vote, she really wanted to do it right but had to learn through missteps along her journey.
"That's why I've been spending the last couple of years really trying not to be the Kerry Washington who drops in and says vote for this person because I did a lot of that in the beginning. And I would be in communities, and you would get the sense that people would say like, 'Well, I don't know if you really care about us. You come here every four years for so and so candidate.' And I started to think, 'Oh, I have to be pouring my energy into communities rather than into candidates,'" she said.
While she still has political candidates that she supports, Washington clarified, "Most of our focus now is supporting grassroots communities all over this country of people who are doing the work so that people know that they matter, that one candidate is not the solution. "
"You are the solution," she told the audience inside the packed Metropolitan East conference room at the Sheraton New York Times Square Hotel where the convention will continue until April 15.
"Stop waiting for these heroes to come in and swoop in and save the day. We are the heroes. ... We do that by voting, by showing up. It's not about a perfect candidate. It's about doing the work to show up to be the hero ourselves."
Washington further argued that politicians who seek to disenfranchise voters are afraid of the power of the people.
"We can sit back and say my vote doesn't matter. But that is a lie. If our votes didn't matter, they wouldn't care about voting rights, they wouldn't be out here telling us we can no longer hand out water bottles in the voting line. And we can no longer give pizza to the people in the voting line, or you have to show ID when you vote. All these little tricks are to try to minimize our power. But democracy is the power of the people," she claimed.
The 'Scandal' actress further argued to convention members who had come from all over the country that exercising their right to vote is an act of self-love.
"To me, there is a disconnect, when we don't vote. We are not utilizing the power that we have now in our community. What that says to me is that we have been cut off from the knowledge of our power. And that's not new. Right? That's when so many of our ancestors were brought here in slave ships. They cut us off from our names, from our ability to read, from our ability to marry, from our ability to hold on to our own children — all of these ways to dehumanize and disempower. And they're still at it; they're still at it. And we have to remind ourselves and somehow figure out how to communicate to each other is that we matter," she said.
"We can't fall into this belief that we are small, that we are insignificant. And my fear is that when we don't show up in numbers, that is a deeper sign of how we are not loving ourselves," Washington added.
"We know our vote is an act of love. … For me, when I vote about the issues that I care about, and I'm talking local elections, local, local, local. When I vote for my school board, when I vote for my local judges, when I vote for my sheriffs, when I vote for my secretaries of state. Those are the ways that I love my children, that I love my parents, that I love my husband, that I love myself, ... I vote to protect the ones I love. And I have to be one of the ones that I love."