Kidnapped 10-Y-O Boy Sings Hezekiah Walker's 'Every Praise' Gospel Song for 3 Hours Until Abductor Let Him Go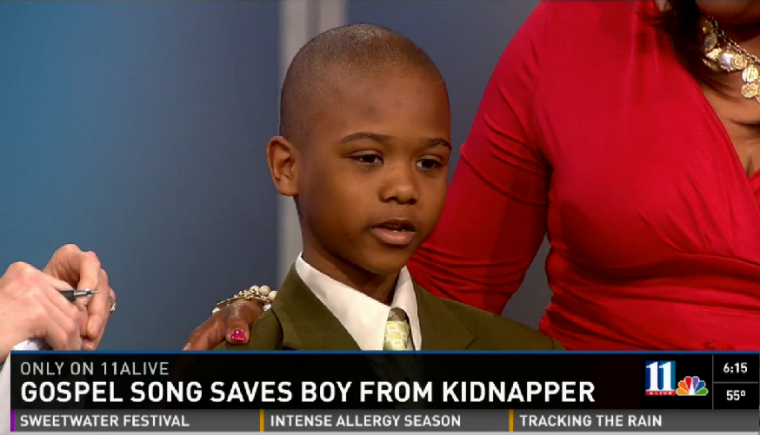 A popular Gospel song titled "Every Praise" written by Hezekiah Walker recently became a weapon for a kidnapped 10-year-old boy who refused to stop singing it until his kidnapper was forced to let him go unharmed.
Police told 11 Alive that earlier this month young Willie Myrick, who was 9-years-old at the time, was kidnapped from his driveway in southwest Atlanta, Ga. He then reportedly dropped little Willie off unharmed in East Point after driving him around for three hours.
"He opened the door and threw me out," said Willie of his ordeal. "He told me not to tell anyone."
Willie, however, did not listen to his kidnapper's orders and his story is moving people of faith throughout the United States.
He explained that after the man, who is still on the loose, grabbed him and threw him in the back of his car he just kept "praising God" with Walker's "Every Praise," a song he learned in Sunday school.
While he was singing, Willie said his kidnapper yelled expletives at him.
"He told me, shut up f*** boy," said Willie. He, however, kept singing until his kidnapper got tired and threw him out ordering him not to reveal what happened.
Willie's mother said she realized what had happened to her son after he called her from a local woman's phone and she broke down.
"I cried," she told 11 Alive. "I broke down and cried."
Last Thursday evening, community leaders held a meeting in young Willie's honor at Mt. Carmel Baptist Church and the "Every Praise" songwriter, Hezekiah Walker, heard about it and showed up to support Willie.
"It's just emotional to me because you never know who you're going to touch," said Walker about the story.
"I just wanted to hug him and tell him I love him," Walker added.
Walker received a standing ovation Thursday when he gave a hug to Willie as the boy cried as he met his favorite singer.
"I really believe that God spoke through me to save that young man's life," said Walker.
Police have released a sketch of Willie's abductor and are asking anyone with any information to call CrimeStoppers at 404-577-TIPS.