Kim Kardashian to Give Birth in $4k-Per-Day Cedars-Sinai Luxury Birthing Suite? (VIDEO)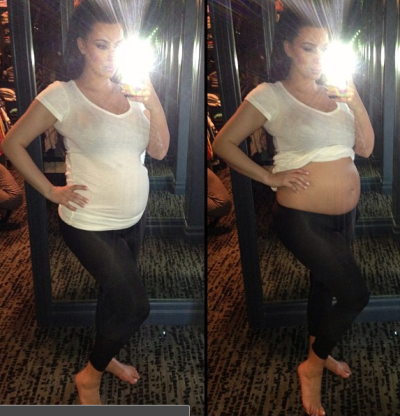 Kim Kardashian will reportedly give birth in a luxury birthing suite at a renowned Los Angeles hospital.
The reality TV star, 32, is just weeks away from her due date and a new report claims she is preparing to drop a hefty amount of money for a deluxe birthing suite at Cedars-Sinai Medical Center. The maternity suite reportedly features a full-size bath tub, a separate sitting room, along with flat-screen TVs and Kardashian is expected to stay for at least three days, according to The Sun U.K.
Celebrity gossip blogger Rob Shuter of NaughtyButNiceRob.com described the luxury suite as being like the Four Seasons hotel and costing an estimated $4000 per day.
"It really looks like the Four Seasons, it looks magnificent. There's a waiting area for your family and friends, there's flat screen TVs, it's not hospital food that we're probably used to ... it's a really lovely place," Shuter told ABC News.
The National Enquirer claimed Kardashian, who is expecting her first child with rapper Kanye West, will spend at least $1 million on the baby birth, but that report has not been verified.
Kardashian and West, who announced the pregnancy news in December, are expected to take extreme measures to protect their privacy at the hospital when the reality star goes in to labor. In January 2012, Beyonce, who is a good friend of West's, spent in excess of $1.3 million for tight security at Lenox Hill hospital when she gave birth to her and Jay-Z's first child. Kardashian will reportedly follow suit.
"They definitely want their s--- to be on lock and don't want nosy a-- people all up in they stuff," a source close to the couple previously told HollywoodLife.com. "
Various reports previously claimed Beyonce, 31, and Jay-Z, 42, paid the substantial sum to rent out an entire wing at the private New York hospital, which ultimately inconvenienced other patients. The couple reportedly hired an overzealous team of bodyguards and demanded that security cameras were taped over- something fans anticipate Kardashian and West may also do.
"It's going to be like Fort Knox at whatever hospital they deliver at," the source said about Kardashian, referring to the U.S. Army Post.