Kirk Cameron to Host Christian Game Show 'National Bible Bee'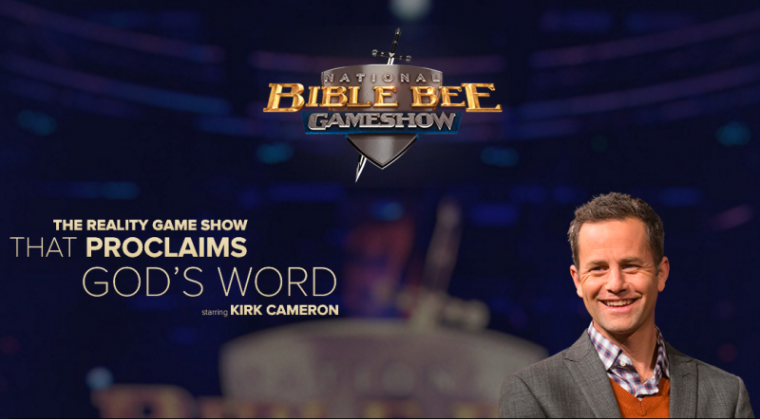 Actor Kirk Cameron jumped on board to host season 2 of "The National Bible Bee Game Show" where 72 young people will have a chance to win a cash prize for showcasing their Bible memorization skills.
"Since the 'National Bible Bee' started in 2009, I've been a fan and supporter," Cameron, father of six, said in a statement shared with The Christian Post. "'The National Bible Bee Game Show' stirs up fun, excitement and a lot of 'intended consequences' in homes worldwide."
Joining Cameron on the game show, as guest judges are identical twins Jason and David Benham, who are former professional baseball players, best-selling authors, and real estate giants known as the Benham Brothers. The panel of co-hosts also includes season one "National Bible Bee Game Show" winner Hannah Leary and Emeal Zwayne ("E.Z."), the national spokesperson for the Bible Bee.
Season two of the "National Bible Bee Game Show," reportedly began filming in January 2016. But as announced last month during a National Religious Broadcasters event in Orlando, Florida, the show's premiere is finally on the horizon.
The game will follow young people from 7 to 18 years of age as they compete to win $260,000 in prize money.
The players are grouped together to battle others in their age range (Primary: ages 7-10, Junior: ages 11-14, and Seniors: ages 15-18). From each age division, the top 3 percent of contestants compete in a bracket-style Scripture-knowledge tournament.
"Twenty-five percent of Christians never read the Bible, research says. So Bible literacy is the brass ring," Zwayne said. "'The National Bible Bee Game Show' flips challenge into opportunity as whole families get into God's Word to compete together or to cheer on contestants from home."
Since the "National Bible Bee's" first contest in 2009, more than 40,000 young people have participated.
2015 winner Leary said the game is more than just learning mechanically. "It's not just memorizing Scripture," Leary assured. "It's studying Scripture and being able to dive in deep and understand what God has to say in His Word."
Produced by Enthuse Entertainment, season one of the "National Bible Bee Game Show" reached into the homes of 80 million people. It aired and broadcasted globally on NRB Network, CTN and UPLIFT TV.
The entire concept of the show was inspired by Shelby Kennedy, an inspiring young lady who died of cancer at the age of 23.
The website says, "Her testimony of hope in the midst of a fiery trial inspired those around her. Much of what kept Shelby's joy in her last days was time spent studying the Word of God. Her life was the inspiration for the Shelby Kennedy Foundation, a nonprofit ministry that began "National Bible Bee" in 2009 to challenge and encourage young people and their families to grow in Christ through the study of the Bible, scripture memorization and prayer."