Kirk Franklin Goes on 'No Punk Christian' Rant Against Pastor Who Bullied Daughter
Kirk Franklin is apologizing to fans after the self-proclaimed "non weak, no punk Christian" fired a series of tweets at a controversial pastor who bullied his daughter.
It all started when Franklin's 19-year-old daughter, Kennedy, accused a man who goes by the name of Pastor Saiko Woods of bullying her.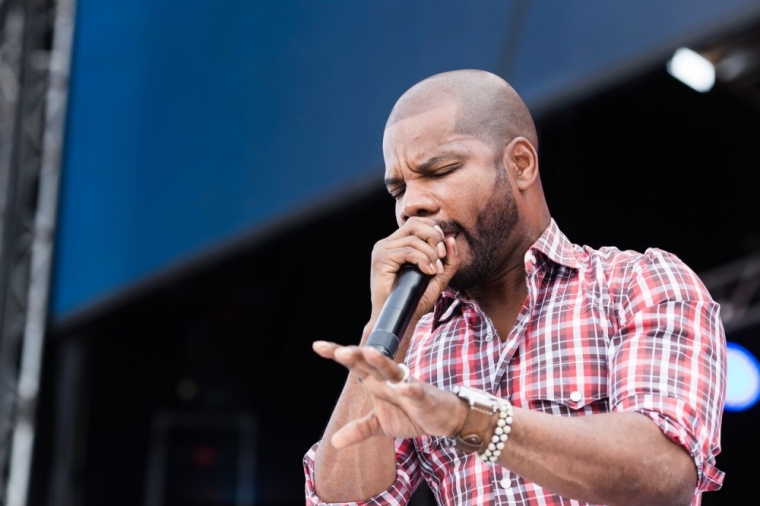 "This 'pastor' will not leave my family and I alone. He is still talking about me and my father and will not give it a rest.. @SaikoWoods," Kennedy wrote Tuesday, tagging the pastor of His Word His Way Fellowship Church in Sugar Land, Texas.
The content of Woods' tweets are protected and not available to the public.
Although Franklin, a Grammy Award-winning record executive, artist, music composer and host, was visiting Tokyo, Japan, he caught wind of what was taking place and did not hesitate to respond online. The 47-year-old musician accused Woods and another online Christian critic of his daughter of being reasons why people do not take Christianity seriously.
"It's 10 am here in Tokyo and my wife just called me to let me know my daughter is in tears because 2 so called Christian people online have bullied her, and called her everything but a child of God...CONGRATULATIONS @SaikoWoods and @CSWrite2Inspire you've succeeded," he wrote in a series of tweets. "You've proven so many people right in why they no longer go to church and believe all Christians are a joke, and hurt one of his kids....But let me tell the world who @kenn_elizabethh is! She's a sophomore in college, a smart young woman, the apple of my eye, and a girl I would DIE for."
The music executive and entertainer went on to emphasize that he is willing to lose his life for his child, urging people to "test" him.
"Test and try me. There'll be a greatest hits album released after my funeral we'll send you two..," he wrote. "You come for someone's child in the name of your own self righteous and expect people to follow that type of God? My heart is broken and so is hers, but SHE GONE BE ALRIGHT."
Franklin continued to drive his point home by insisting that he was not a weak Christian but rather a crazy one, before publicly bringing up allegations that Woods was kicked out of his church.
"To all my followers, this is NOT a reflection of Jesus. He would NEVER hurt you to save you...I'm a proud, crazy, non weak no punk Christian that wish a..... God Bless. #daddysgirl," he wrote. "Lastly @SaikoWoods please tell us why you were kicked out of your church... us ungoldly Christians would love to know. LEAVE MY CHILD ALONE."
After firing off his series of tweets, Franklin decided to apologize to his fans.
"My apologies twitter...I'm thousands of miles away from home and I'm trying to protect my baby..," he wrote.
Franklin also engaged in a fiery Twitter debate last week when he spoke out against President Donald Trump's executive order to suspend the admission of refugees into the country for at least three months.
"I am a Christian who would rather sit at the table with a Muslim brother than ban him from a home that wasn't originally mine...," Franklin wrote.
When one Twitter user brought Franklin's daughter into the conversation by saying, "@kirkfranklin I trust u'll be leaving ur doors unlocked tonight. Oh & ur brothers want to know if u have a daughter," the gospel music star made sure the critic knew not to speak about his child.
"Yes I have a daughter and the ability to protect her," he wrote. "Please come so I can have a reason to introduce you to it in Jesus name."