Sun Ho Ordained as City Harvest Church Pastor Amid Controversy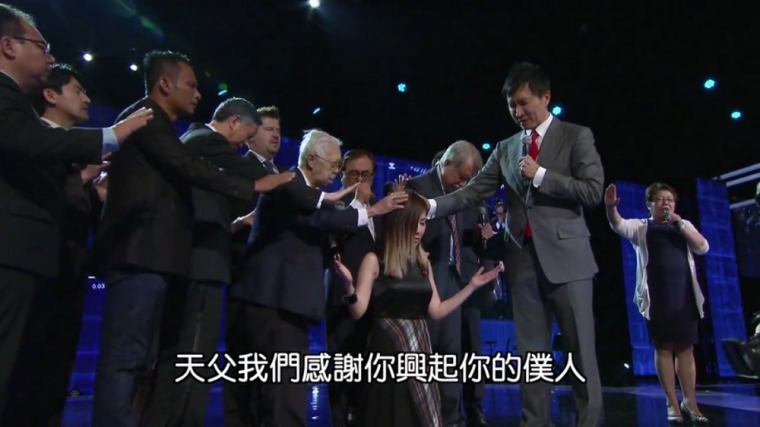 City Harvest Church founder Sun Ho was officially ordained as a pastor at the church only days before her husband, Pastor Kong Hee, and five other CHC leaders were found guilty of funneling millions into her popstar career.
Yahoo News Singapore posted pictures and a video shared by Kong of the ordination, which apparently took place on Oct. 19.
"The 2-minute clip shows Ho being ordained by someone who appears to be Michael Scales from New York's Christian College, as well as her husband Kong, who was one of the six church leaders declared guilty for misappropriating church funds to finance Ho's singing career," the article states.
The video shows Ho kneeling on the stage with her arms raised, with Kong praying over her.
"I pray when she speaks, fire will come out of her belly," the pastor says.
Kong further asked believers to pray for the church's next generation of leaders, saying, "Please continue to pray for Sun and our new generation leadership team, as they work together for CHC 2.0!"
Kong and Ho founded CHC in 1989, and helped it become one of Singapore's largest megachurches.
The six CHC members found guilty are facing up to 20 years in prison for their role in funneling more than $35.5 million in church donations to a management company called Xtron that was to handle Ho's music career in America.
Ho, who did not face trial herself, stood by her husband and the other leaders throughout the ordeal, and following the guilty verdict said that she still trusts in God's plan.
"As was the case throughout these past three years of court trial, and the earlier two years of investigation, we have placed our faith in God and trust that whatever the outcome, He will use it for our good (Romans 8:28). This protracted season has been extremely difficult, not just for the six, but also for all their families and friends, as well as for our congregation," Ho wrote on behalf of the CHC leadership.
As a pastor at CHC, Ho will not be responsible for providing counsel and advice to the congregants, Yahoo said.
Kong is waiting on the prosecution's written submissions to court, with sentencing expected to take place on Nov. 20.