Korean 'Chapel of Peace' to Be Built in Demilitarized Zone; Will Serve as 'Spiritual Cradle'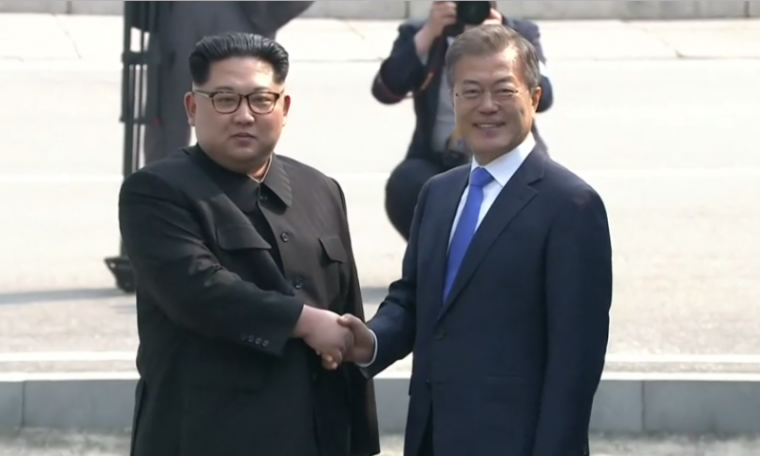 A new chapel for peace will be built in the Korean Demilitarized Zone in the only village where North and South Korean troops stand face-to-face.
In what is known as the truce village of at Panmunjom in the Joint Security Area, a groundbreaking ceremony was held earlier this month to commemorate the new chapel that will be presided over by Bishop Francis Xavier Yu Soo-il.
According UCA News, an Asia-based outlet that covers Catholic news, the structure will act as a "chapel of peace."
The building will be one story tall and is expected be able to accommodate 100 worshipers.
Expected to be completed by March 2019, the building will be located on a plot of land that measures over 2,000 square meters.
The new building will replace an older chapel that was constructed in 1958, about three years after peace talks between the two sides resulted in a ceasefire.
The groundbreaking ceremony held on June 5 came about a week before United States President Donald Trump met with North Korean Supreme Leader Kim Jong Un in Singapore and signed a joint statement calling for a lasting peace and stability in the Korean peninsula. It also came a little over a month after Kim met with South Korean president Moon Jae In and signed an agreement to work towards a "common goal" of denuclearization in the peninsula.
"The construction of the new chapel in the JSA is a gift showing God's grace," Xavier said, according to UCA News.
Xavier stated that the chapel will serve as a place where people can pray to "overcome the division of the two Koreas" and peaceful reunification.
"It will also serve as a spiritual cradle for the soldiers guarding the truce village," he said. "A blessing on all those who visit here."
Lt. Col. Matthew Farmer, commander of the U.N. Command Security Battalion-JSA told UCA News that it is "meaningful" to be able to build a new chapel in the JSA because it is a place where "fierce battles" have taken place but has now "become a place of dialogue."
"This will be a venue to pray for peace on the Korean Peninsula," Farmer said.
A sign that things are continuing to head in a positive direction is reports that the North Korean government has decided to cancel an annual "anti-US imperialism" rally.
The Telegraph reports that the rally is usually filled with Pyongyang residents who assemble for the event, which launches a month of anti-U.S. and military-focused events.
According to Newsweek, the event is held every June 25 to commemorate the beginning of the Korean War and is known as the "Day of Struggle Against U.S. Imperialism." Last year, the event was reportedly attended by over 100,000 people.
The month-long celebration usually concludes on July 27 with a "Day of Victory in the Great Fatherland Liberation War."
North Korean officials have offered no public comment on why this year's event did not occur.
Last week, it was announced that the Pentagon suspended the planning of a joint military exercise with South Korean forces that was scheduled to take place in August. .
Reuters reports that the U.S. government will soon present the North Korean regime with a list of "specific asks" following the Kim/Trump meeting earlier this month.
An official who told reporters about the plan did not specify what would be asked of the North Korea government but suggested that it would show if Pyongyang is serious about the peace talks.
"We'll know pretty soon if they're going to operate in good faith or not," the U.S. official was quoted as saying.
However, Secretary of State Mike Pompeo told CNN that he would not put a timetable on negotiations toward North Korean denuclearization. 
"I am not going to put a timeline on it," Pompeo said. "Whether that's two months, six months, we are committed to moving forward in an expeditious moment to see if we can achieve what both leaders set out to do."