Are Lady Clothes the New Trend for Men?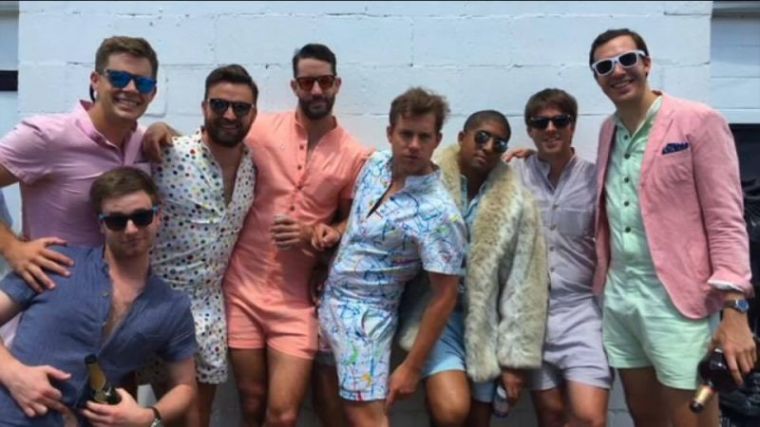 The trend of feminine and ultra-casual clothing for men has several theologians observing the influence of the "gender cult" and the decline of masculine dress, calling the church to model how men should wear clothes.
A Kickstarter campaign launched in May to make a one-piece outfit known as a romper, which is traditionally worn by females, for men, garnered significant attention on the Internet. Also called a "bro-romper" or a "RompHim," the publication of the effort in a May 15 Esquire magazine article by a "decidedly anti-romper" Christine Flammia, sparked an "immediate and visceral" reaction, as noted in a subsequent article.
The Kickstarter project originally intended to raise $10,000 to make rompers. Due to such large publicity the project has now garnered over $353,000.
Esquire asked several fashion insiders why they thought there was such a strong response. Some of them thought the idea was "fun and fresh." Others called it "ridiculous."
There have been other reported lady-ish men's clothing trends. On June 2, the Fox affiliate in Houston reported on an Instragram account called sparkiebabyofficial, which has over 81,000 followers, showing the development of sheer lace shorts for men. Designer Palomo Spain recently released his menswear collection featuring skirts and dresses with ruffles, garters and virginal bridal garb.
This is not mere fashion industry silliness and the designer is indeed making an ideological statement reflecting a cultural trend, said Fay Voshell, a theologian and regular contributor at The American Thinker in a Thursday interview with The Christian Post.
"[Fashion house] Palomo Spain seems to be a devotee of the current gender cult that believes the distinctions between men and women are either insignificant or should be eliminated altogether," Voshell said.
"Ironically, Palomo's attempts to reverse engineer men, turning them into women, is actually dependent on acknowledging the contrast between the sexes. Were he actually true to current gender ideology, he would design padded blue uniforms like those worn by Mao Tse Tung's subjects, who looked like virtually undifferentiated units."
But even before overtly female clothing for men appeared on the scene, others are noting the casualization of men's fashion over many years, a trend they consider a decline that offers a kind of window into the soul of a man.
Writing in the June edition of First Things, G. Bruce Boyer noted that ones clothing has "always provided the most obvious indication of both dignity and definition."
"There was no question in anyone's mind when Louis XIV walked into the room who was king. His yards of ermine and gold cloth made it easy," Boyer said.
"But today we see a man walking in midtown Manhattan wearing a pair of jeans, denim shirt and jacket, cowboy hat, and cowboy boots and have no idea what he may be. He may of course be a cowboy, but on 34th Street? All we are given to know is that he wants to be thought a cowboy. At least for today."
In a June 6 podcast called "Is There Such a Thing as Dressing Like a Man?" from the Center for Public Theology at Midwestern Baptist Theological Seminary, professor Owen Strachan observed that many men and the average teenage boy do not know how to dress today.
"Traditional masculine dressing, which at least some would sneer at today emphasizes a certain look," he said, mentioning how blazers and suit coats are cut specifically for a man's structure,
"We want our boys to see that it is good to be mature, it is good to dress like a man, and the local church has a role in this."
Young boys need to see men within the church modeling godly manhood, he said, and that includes how to dress.
"It's a good thing to train a boy to look, eventually, like a man," Strachan said.
"It's a good thing for your son to look at his dad and grow up and look like Dad."
And if the church models this, it can launch a revolution of its own, he said.
Voshell added: "Both men and women should be glad the Genesis account of God creating male and female is an irrevocable fact of life. The difference between the two should be celebrated by dressing as befits the sex one is born with."
"Let men dress like men and women like women!"