Las Vegas Survivor Says Shooting Turned Him From Agnostic to Firm Believer in God (Video)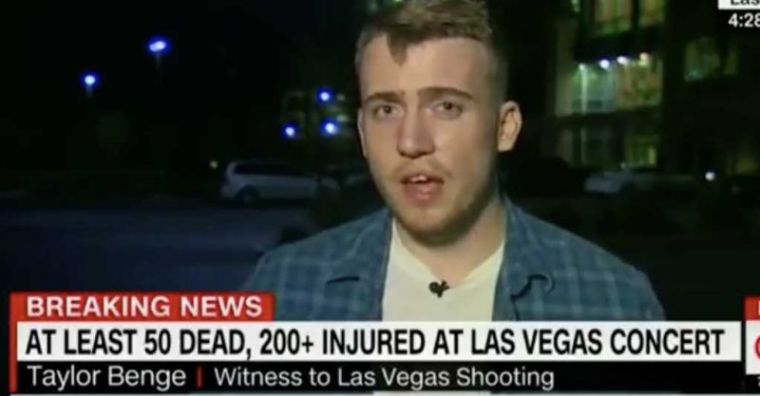 Taylor Benge said his survival from the tragic shooting in Las Vegas on Sunday helped turned him from an agnostic into a believer in God.
A gunman on the 32nd floor of the Mandalay Bay Hotel in Las Vegas opened rapid-fire on an outdoor concert festival Sunday night, killing at least 58 people and injuring over 400 others. During the shooting, thousands of terrified concertgoers ran for cover during what is now the deadliest mass shooting in U.S. history.
Before the shooting began, country singer Jason Aldean was on stage performing for the Route 91 Harvest Festival, a popular three-day country music event. His music set was soon interrupted by the sound of what some said sounded like "fireworks" but they soon discovered it was gunfire.
CNN's Rick Berman interviewed Benge on the horrifying experience and the young man testified that his faith was restored. He shared that his own sister risked her life to protect him.
"My sister and I, we started running to the left and every time they shot, we took cover," Benge told CNN Monday morning. "My sister, being as noble as she is, she actually threw herself on top of me and was saying, 'I love you Taylor, I love you.' And I'll never forget that."
He went on to say that he looks at their survival as an act of God.
"I was agnostic going into that concert, and I'm a firm believer in God now 'cause there's no way that, you know, all that happened, and that I made it, and I was blessed enough to still be here alive talking to you today," Benge said.
See Benge's account below:
Follow Jeannie Law on Twitter:
@jlawcp