Lawsuit Against Ohio Judge Who Denied Transgender Teens' Name Changes Is Dismissed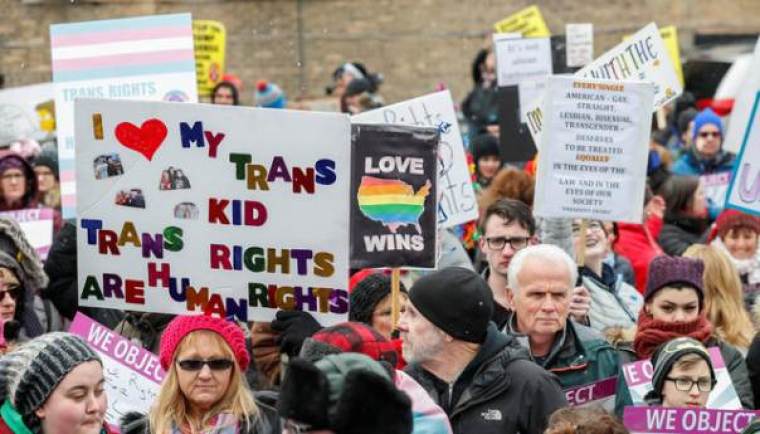 A federal judge on Wednesday dismissed a lawsuit brought against an Ohio judge who was sued by three families because he rejected the name change applications of transgender teenagers.
Probate Judge Joseph Kirby of Warren County was accused in a federal lawsuit filed in August of having a "pattern and practice" of denying name changes to transgender minors who feel as though their gender identity doesn't match that of their biological sex.
The lawsuit was brought forward by Stephanie Whitaker, whose 15-year-old transgender son, Elliott, was denied a name change in June and told to come back at the age of 18.
Whitaker was joined in the lawsuit by Jennifer Saul, whose 15-year-old transgender son had a name change hearing on Aug. 14 before Kirby that has since been delayed. Another woman, listed in the lawsuit as "Jane Doe," joined the litigation on grounds that she feared Kirby would reject her 17-year-old son's name request even though such a request was never filed.
The lawsuit accused the judge of discriminating against transgender teens by preventing them from using names that correspond with their new gender identity.
U.S. District Judge William O. Bertelsman didn't rule on whether Kirby was obliged to grant the name changes but did recently toss out the lawsuit.
"The proper way to challenge an adverse judgment is to appeal, not to sue the judge," Bertelsman wrote in his opinion, reports Cincinnati.com.
Bertelsman said that the state appellate courts have the ability to not only overturn Kirby's decision but to rule whether or not he "abused his discretion in denying the name change."
According to Cincinnati.com, one family that was denied a name change by Kirby has appealed his decision to Ohio's 12th District Court of Appeals and a hearing is scheduled for Nov. 12.
Each family would need to file appeals of their cases individually. But only one of the families so far has actually received a decision from Kirby.
Should the appellate court side with Kirby, the families also have the option to appeal to the Ohio Supreme Court.
"All of these options are open to them, but directly suing any of the judges is not," the judge stated in his decision.
Bertelsman heard the arguments in the case last week but held off on releasing his ruling until this week, according to Dayton Daily News.
In Whitaker's hearing in June, NBC News reports that Kirby asked the teenager about what restroom and locker room he uses at school and whether or not his transition has anything to do with his sexual interests.
Kirby was also alleged to have referenced Caitlyn Jenner during the hearing and wondered whether Jenner "set the stage" for gender change.
Kirby's refusal to grant the name change until the age of 18 follows similar rulings he made on several other name-change requests from transgender applicants, The Washington Post reports.
Whitaker's attorney, Joshua Langdon, argues that it could cause harm to transgender children to make them wait until they are 18 to get their names legally changed. Barring a name change before the age of 18 could prevent transgender children from getting their preferred name on important documents like their driver's licenses.
"Forcing children to wait until they're 18 to change their names increases their risk of being outed and bullied, having violence perpetrated against them and having depressive symptoms," Langdon told NBC News in August.
Kirby has denied the claim that he discriminates against transgender applicants.
In a written response to the lawsuit given to news outlets in August, Kirby stressed that his court has granted multiple name changes to transgender youth and adults. However, Warren County's Chief bailiff told The Washington Post that Kirby wasn't referring to his individual caseload but rather decisions by other judges in the court.
Kirby added in his statement that the court "holds no bias against those that are transgender." Having served over two decades in the judicial system, Kirby asserted that "children do not always know what is best for them during childhood."