Lecrae Speaks Out on #Ferguson: 'At Times it Feels Like My Eternal Family Could Care Less About My Earthly Family'
Christian Rapper Also Gets Static for Comments on Artists Glorifying 'Lawlessness' and Then Demanding Justice
King added, "So, when @Lecrae says, in essence, that Hip Hop can't really speak about justice, I respectfully disagree. It can and it must."
King clarified that his stance against Lecrae's views did not amount to "beef," but was only "disagreement."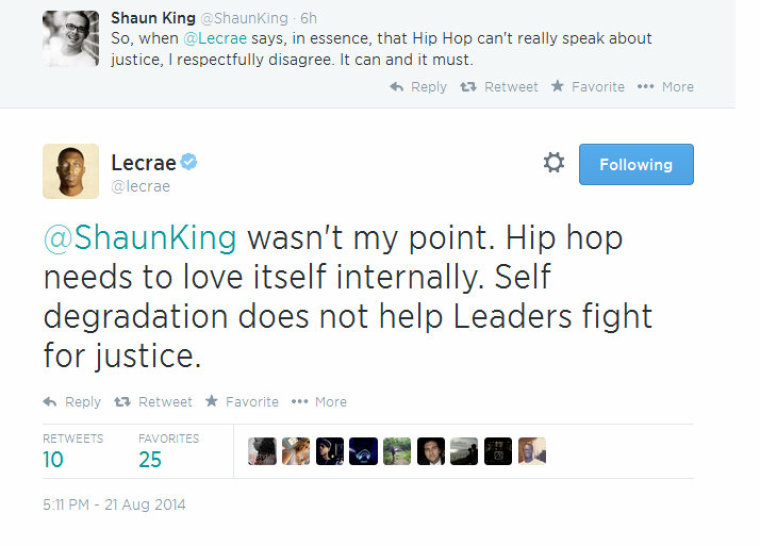 "Let me state here that I love you. Respect you. Own your music. On all of my kids iPods. We are brothers who disagree. That's all," King tweeted to Lecrae after the artist wrote that he had been misunderstood.
Lecrae, prepping for the release of his seventh studio album "Anomaly" on Sept. 9, shares his frustrations over the shallow content of some popular forms of hip-hop in the the lead single "Nuthin'".
"Honestly, I'm so tired of the redundancy," Lecrae told Vibe.com, explaining his vision for "Anomaly."
"The world needs artists that are willing to provoke. Let's talk about issues: education, racism, faith, fatherlessness. These are the things that inform what I do."
Watch a lyric video for "Nuthin'" in the video player below:
Lecrae's personal comments stand alongside those of others who have expressed frustration over the high-profile case in Ferguson, Missouri, involving 18-year-old Michael Brown's shooting death at the hands of Darren Wilson.
The case has been highlighted by many as another example of law enforcement officials' callous treatment of black Americans. Ferguson officials have stated that Wilson had been physically assaulted by an unarmed Brown before the officer shot him at least six times.
The fatal encounter occurred on Aug. 9, and from the very start has been the focus of vigils, protests, petitions and discussions, notably among Christians, about what the case says about the nation's racial issues as well as law enforcement tactics.
The Christian Post has previously highlighted on-going discussions among Christians who have been using Brown's case as an occasion to bring clarity and context to what some believe is the larger issue of racial injustice.
Read about some of those discussions in the articles listed below: