LG G5 News: LG's Next Flagship May Released In Q1 2016 With All-Metal Body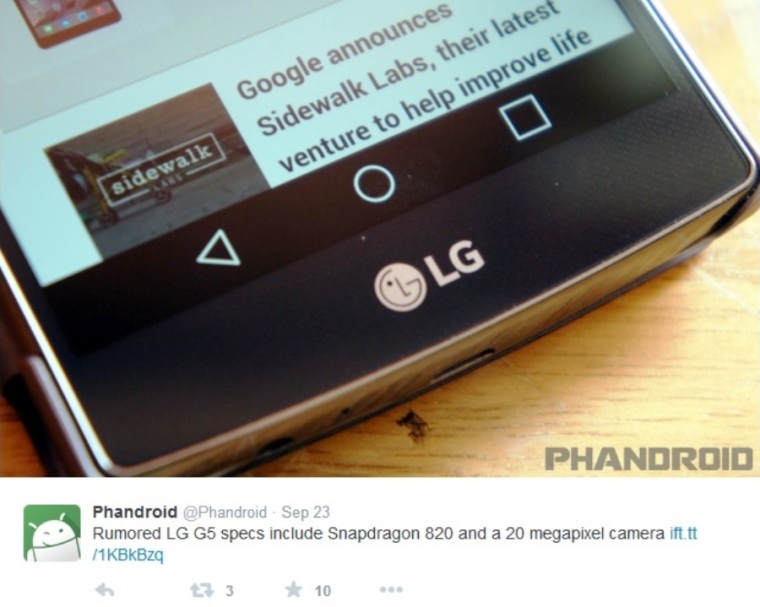 The next flagship phone of LG, the LG G5, is turning out to be one that will be carrying an all-metal design, a Qualcomm Snapdragon 820 chipset, an iris scanner and a 20 megapixel main camera, among other features. According to a Tech Times report, the device may be unveiled within the first quarter of 2016.
The LG G5 is the touted successor of the LG G4, which has suffered from a not-so-good sales performance since its release in 2015. The G4 is known for its elegant design with a one-of-a-kind leather back and high-end specs to boot.
From the round-up of rumors about the LG G5's specs, it looks like the new device is also packed with what the report considered "nifty features."
The LG G5 may do away finally with plastic and will go for an all-metal build, according to the report. It will the company's first time to use all metal for their flagship devices.
Under the hood, it is expected to be powered by the latest chipset of Qualcomm, the Snapdragon 820. This will be paired off with an Adreno 530 GPU. As to the RAM of the device, reports are slim as to whether it will be 3 GB or a bigger 4 GB.
Its screen is rumored to be a 5.6-inch one, with 1,440 x 2,560 pixel resolution. An iris scanner is said to be part of the package, which is reportedly developed by IRIENCE, a Korean biometrics company. Camera-wise, the device is said to have a 20-megapixel rear camera, while its front-facing camera may be an 8-megapixel shooter.
Consumers who want to get their hands on this latest flagship when it is released will need to shell out around $600, according to the report.
The LG G5 may not be the only phone that will be unveiled during its debut. Rumors of a bigger LG G5 Pro are also circulating, saying that the device will have a faster 1.8 GHz hexa-core Snapdragon 820 chipset.