LGBT Group Threatens Johns Hopkins Over Report That Science Doesn't Show People Are Born Gay, Transgender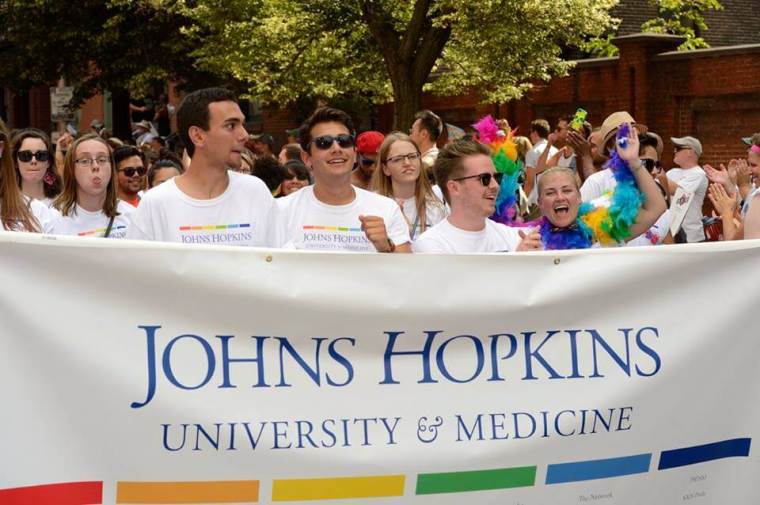 The Human Rights Campaign, America's largest national lesbian, gay, bisexual, transgender and queer civil rights organization, has threatened to penalize Johns Hopkins University if it does not denounce a report from two of the institution's scholars which concludes that there is little scientific evidence that people are born gay or transgender.
In the special report for The New Atlantis titled Sexuality and Gender: Findings from the Biological, Psychological, and Social Sciences, Dr. Lawrence S. Mayer, a scholar in residence at Johns Hopkins University School of Medicine and Dr. Paul McHugh, professor of psychiatry and behavioral sciences also at John Hopkins School of Medicine conclude there is very little evidence supporting the "born that way" and other theories on sexual orientation.
"Some of the most widely held views about sexual orientation, such as the 'born that way' hypothesis, simply are not supported by science. The literature in this area does describe a small ensemble of biological differences between non-heterosexuals and heterosexuals, but those biological differences are not sufficient to predict sexual orientation, the ultimate test of any scientific finding," the report said. "The strongest statement that science offers to explain sexual orientation is that some biological factors appear, to an unknown extent, to predispose some individuals to a non-heterosexual orientation."
When it comes to transgenderism, the study explained the phenomenon is even more complex.
"The suggestion that we are 'born that way' is more complex in the case of gender identity. In one sense, the evidence that we are born with a given gender seems well supported by direct observation: males overwhelmingly identify as men and females as women. The fact that children are (with a few exceptions of intersex individuals) born either biologically male or female is beyond debate," the report said. "The biological sexes play complementary roles in reproduction, and there are a number of population-level average physiological and psychological differences between the sexes. However, while biological sex is an innate feature of human beings, gender identity is a more elusive concept."
The report attracted the attention of HRC and the organization said it agreed with "nearly 700 members of the Johns Hopkins community" who feel the report was a "misguided, misinformed attack on LGBT communities" and called for the university to distance itself from the scholars and the report or face consequences.
"HRC has been in communication with Johns Hopkins over the need for an official statement about McHugh and Mayer's activities. Recently, HRC met with leadership at Johns Hopkins to express the urgency of this issue and the continued need for action," HRC said in a statement on its website.
"This year, for the first time, HRC Foundation's Healthcare Equality Index will rate hospitals with a numerical score and will consider whether hospitals and health systems' practices reflect 'responsible citizenship.' If Hopkins' leadership ignores their community's call to correct the record — clarifying that McHugh and Mayer's opinions do not represent it, and that its healthcare services provided reflect the scientific consensus on LGBTQ health and well-being — its Healthcare Equality Index score will be reduced substantially," added the LGBTQ organization.
In a letter to the Johns Hopkins Medicine community on Friday Paul B. Rothman, dean of the medical faculty and CEO of Johns Hopkins Medicine, and Ronald R. Peterson, president of Johns Hopkins Health System, said the institution remained committed to supporting the LGBT community.
"Johns Hopkins Medicine's commitment to the LGBT community is strong and unambiguous. In July, we wrote to you in support of the LGBT community and Baltimore Pride celebration. In that message, we highlighted the policies, practices and programs at Johns Hopkins Medicine that reflect our deep commitment to providing a welcoming and supportive environment — and the best possible care — for all LGBT individuals who work for or seek help from Johns Hopkins Medicine," the letter began.
"In recent months, some have questioned our position, both inside and outside the institution, not because of any change in our practice or policy, but because of the varied individual opinions expressed publicly by members of the Johns Hopkins Medicine community. We have taken these concerns seriously," it continued.
Officials noted however that while they remain committed to supporting the LGBT community they are also committed to academic freedom.
"We also restate that as an academic medical research institution, academic freedom is among our fundamental principles — essential to the self-correcting nature of scientific inquiry, and a privilege that we safeguard. When individuals associated with Johns Hopkins exercise the right of expression, they do not speak on behalf of the institution. As set forth in the Johns Hopkins University Statement of Principles on Academic Freedom, academic freedom is designed to afford members of the community the broadest possible scope for unencumbered expression, investigation, analysis, and discourse,'" the officials.