Liberty University Student President Says Majority at School Will Vote for Trump Despite Petition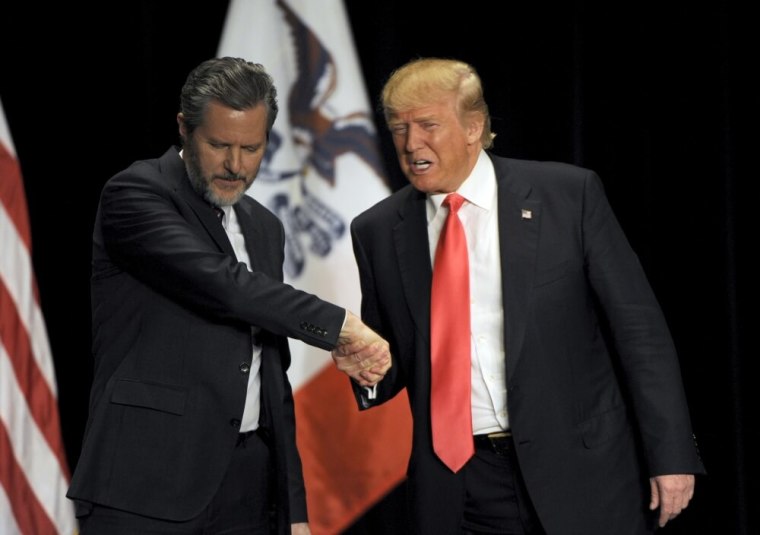 Although more than 2,500 students have signed a petition against Liberty University President Jerry Falwell Jr.'s continued vocal support of scandal-ridden Donald Trump, a student leader says most of the school's students will still vote for the Republican presidential nominee.
"Contrary to what the media is reporting, the majority of students at Liberty University agree with President Falwell and respect his decision to support Donald Trump," Jack Heaphy, who is the university's student body president, said, according to TheBlaze. "They are not blindly following President Falwell, but rather have a shared understanding of the danger a Hillary Clinton presidency represents and what it could mean for the Christian freedoms we hold dearly."
But many students are not happy that the Virginia-based evangelical liberal arts college president continues to support the billionaire businessman despite a recently leaked video showing him making lewd comments about women in 2005 and allegations of sexual assault made against him by several other women.
The student leader explained that students will vote for Trump because an "overwhelmingly large number of students identify as Republicans" and they wouldn't want Democratic nominee Hillary Clinton to become president.
"While I vehemently disagree with many of the things Trump has said and done, I also realize that Hillary Clinton is no better," Heaphy was quoted as saying. "In reality, she is the most morally corrupt candidate in U.S. history and would stand against many of the principles evangelicals hold dearly."
In an interview with CNN on Wednesday, Falwell said the accusations against Trump do not reflect the man he knows now and that he will be voting for the GOP candidate based on the issues.
"Of course I don't know anything about these reports but I know the most recent breaking news the Trump campaign is denying that any of those allegations are true and they are very upset with The New York Times about launching an attack like this and doing it so late in the campaign. I take him at his word. I know he's a good man," Falwell told CNN host Erin Burnett.
"The Donald Trump of today … I think he has been through a change in the last four or five years, he's been influenced strongly by his children, by his grandchildren and I don't think he is the man he used to be. Dr. James Dobson, one of the most respected evangelicals said yesterday that Jesus said 'he who is without sin cast the first stone' and he said 'I'm more concerned about America's future than I am Donald Trump's past' and I agree with that," Falwell added.
In a statement released on Wednesday, a group of students calling themselves Liberty United Against Trump denounced the university president for supporting Trump.
"A majority of Liberty students, faculty, and staff feel as we do. Donald Trump received a pitiful 90 votes from Liberty students in Virginia's primary election, a colossal rejection of his campaign. Nevertheless, President Falwell eagerly uses his national platform to advocate for Donald Trump. While he occasionally clarifies that supporting Trump is not the official position of Liberty University, he knows it is his title of president of the largest Christian university in the world that gives him political credentials," the statement said in part.
"Associating any politician with Christianity is damaging to the Gospel of Jesus Christ. But Donald Trump is not just any politician. He has made his name by maligning others and bragging about his sins. Not only is Donald Trump a bad candidate for president, he is actively promoting the very things that we as Christians ought to oppose," it added.
At least 2,500 students have signed the petition, according to The Huffington Post.
Falwell released a statement Thursday, saying, "The group of students now speaking out against Trump represents a very small percentage of the Liberty student body of 15,000 resident students and 90,000 online students. The group — led by a never Trump activist, I am told — claims to have between 200 and 1200 signatures on a petition but admits that many of these signatories are not Liberty students."
In an article written for RedState, a Liberty graduate and son of a former Liberty professor called Falwell a "disgrace" to the school and asked him to resign. Trump, he wrote, has "bragged about doing the very things he's accused of doing."