Little Sisters of the Poor to Battle Calif., Pa. Efforts to Overturn New HHS Rules
'Governments do not need nuns to give out contraceptives,' says Little Sisters' lawyers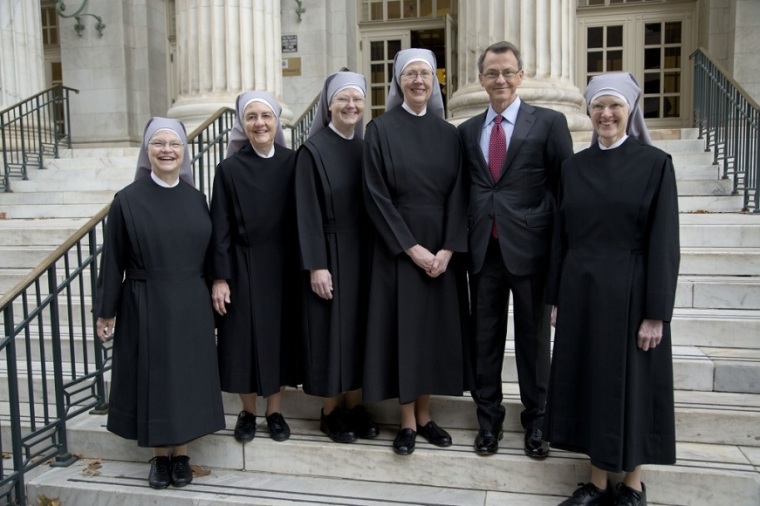 The Little Sisters of the Poor are returning to court to stop the attorneys general of California and Pennsylvania from overturning a recently acquired exemption to the Health and Human Services Department's new birth control mandate exemption.
Pennsylvania and California have filed suit against the federal government over their new broader exemption to the contraceptives mandate, with Delaware, Maryland, New York, and Virginia joining California's litigation.
Becket, the religious liberty law firm that represented the Little Sisters in the past, filed a motion to intervene on Tuesday on behalf the nuns against the two lawsuits.
"The Little Sisters cannot stand idly by while Pennsylvania threatens their ministry by trying to snatch away the protections the Sisters have fought so long to keep," read the motion in the Pennsylvania suit.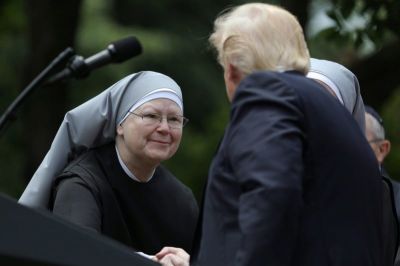 In a press call held Tuesday morning, Becket Senior Counsel Mark Rienzi referred to the two lawsuits against the federal government as an "unnecessary culture war."
"The Little Sisters will tell the judges in these new cases what they have successfully told the Supreme Court time and again: that governments do not need nuns to give out contraceptives, that our big country has room enough and space enough for diversity of ideas," stated Rienzi.
"We can have both people who want contraceptives and nuns who can't give them out ... the Constitution surely does not require the federal government to punish the Little Sisters or any other religious person for living out her faith."
In 2012, then President Barack Obama garnered controversy when his administration announced that they were going to compel religious organizations to pay for health care coverage of birth control and abortion-inducing drugs.
Although the final version of the HHS mandate softened the requirements for religious groups, many organizations, schools, and businesses, including the Little Sisters, sued the federal government, arguing that the mandate violated their religious freedom.
In May 2016, the U.S. Supreme Court released a Per Curiam ruling vacating lower court decisions on the HHS mandate due to a possible resolution between groups like the Little Sisters and the federal government.
"Following oral argument, the Court requested supplemental briefing from the parties addressing 'whether contraceptive coverage could be provided to petitioners' employees, through petitioners' insurance companies, without any such notice from petitioners,'" read the 2016 decision.
"Both petitioners and the Government now confirm that such an option is feasible. Petitioners have clarified that their religious exercise is not infringed where they 'need to do nothing more than contract for a plan that does not include coverage for some or all forms of contraception,' even if their employees receive cost-free contraceptive coverage from the same insurance company."
In October, President Donald Trump announced that the HHS mandate would have a broader religious exemption, which would allow the Little Sisters to be exempted.
In a statement last month, Becket stated that President Trump's new rule "will at least temporarily protect the Little Sisters," but that it was not a permanent solution.