What Trump's Religious Freedom Order Does and Doesn't Do
Here's What Critics of Trump's Religious Freedom Order Are Overlooking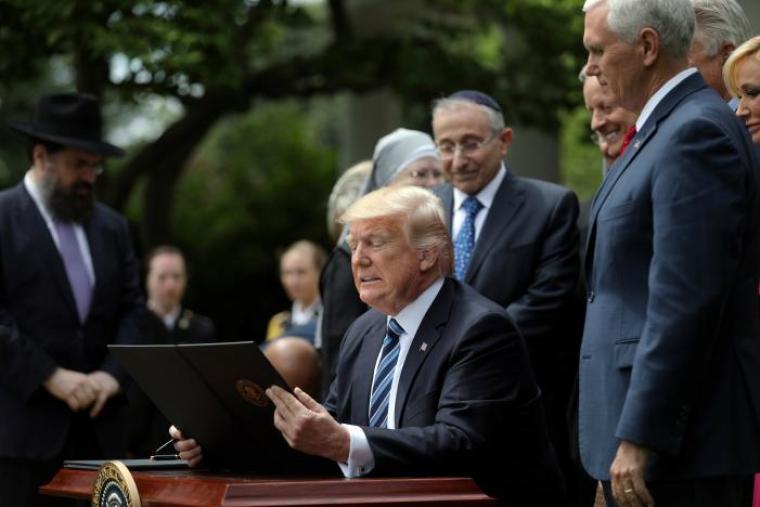 Much has been made about the executive order promoting religious liberty signed by President Donald Trump Thursday, leaving some prominent conservatives and religious freedom advocates disappointed while others are calling the order the most significant moment for religious liberty in decades.
Following the issuance of the executive order, the president received many praises from conservative leaders for proclaiming that his administration will "vigorously enforce federal law's robust protections for religious freedom," instructing the IRS to relax enforcement of the Johnson Amendment on churches and instructing the Department of Health and Human Services to "consider" giving exemptions to religious objectors to Obamacare's controversial contraceptive mandate.
Not all conservatives were happy because the order was much more scaled back than a draft  order leaked to the press in February. Prominent conservative thinkers and religious freedom advocates like Robert P. George and Ryan Anderson expressed disappointment in the order. In a Facebook post, George proclaimed that the order does "nothing."
Although the order doesn't enact concrete relief for other religious freedom concerns facing Christian businessowners, military service members, Christian colleges, faith-based federal contractors and others, prominent legal experts on religious freedom told The Christian Post on Friday that the order should be celebrated because it establishes that the administration will "vigorously" protect religious freedom and instructs federal agencies to address religious liberty concerns caused by policies of the Obama administration. 
"Some of the things that in that leaked executive order were beyond the authority of the president to address because they deal with individual state conflicts, such as the baker and the florist kinds of cases. That's not in the ability of the presidential resolve, that's a state issue," Liberty Counsel Chairman Mat Staver told CP Friday morning.
"I think if you look at this order, it has the proposition that religious freedom will be protected and promoted. That is a significant change in not only the past two terms, frankly the last several presidents," Staver added. "That particular provision is directed by the president across the board in all the federal agencies and departments to protect and promote religious freedom in a rigorous manner. That is the CEO telling the department heads what the policy is for the company and now it's your task to implement it."
One of the most important elements of the executive order that some critics are overlooking is Section 4, which calls on the Department of Justice to "issue guidance interpreting religious liberty protections in federal law" in order to "guide all agencies in complying with relevant federal law," First Liberty Institute lawyer Mike Berry told CP.
"What [Trump] is saying is, 'My administration is going to promote and protect religious liberty. In order to do that, the Department of Justice, I want you to look at existing federal laws and anything that touches religious liberty, I want you to issue guidance that is consistent with the guidance that I just gave,'" Berry summarized.
"It's a top-down approach, which is the hierarchy that we have in our government" he continued. "What is wise about it is that it's directing the one agency and one cabinet official who probably has the most power and ability to do that, and that is the attorney general. The attorney general could then issue this guidance that would apply across all 15 federal departments ... [and tell them] 'This is how we are to interpret religious liberty in existing federal law.'"
Berry was unsure whether the Department of Justice will issue one large guidance to all federal agencies or issue a number of smaller guidances addressing religious liberty concerns. Staver believes it will be an "extensive guidance across the board for all the federal agencies and departments to implement."
Although the order doesn't directly reverse any specific Obama-era policies or create any new regulations, Berry believes Section 4 will allow the Justice Department to begin "scrubbing" Obama-era regulations that have caused religious liberty concerns.
"Much of what President Obama accomplished ... during his eight years in office came through executive fiat and it was done through the executive branch and the bureaucracy of the federal government," Berry explained. "It was through written policy memos. It wasn't through legislation.
"So, yes, this would empower the attorney general to go through, essentially scrubbing all the existing policy memoranda and saying, 'That's no longer how we are going to interpret religious liberty in our federal law.' That is where you end up with cases like Hobby Lobby and Little Sisters of the Poor is because of the way the Obama administration interpreted certain aspects of federal law."
Berry was asked if the order might lead to more guidances similar to the one issued by the Trump administration earlier this year that rescinded an Obama-era guidance instructing public schools to allow male students who identify as female to use girls' bathrooms, locker rooms and showers, and vice-versa.
"I don't know if it's going to happen over a length of time. Obviously, you are going to have to get very smart people together to look at these things and come up with the right strategy. If you look at what president Obama did, they didn't do these things overnight either," Berry said. "It took time to be able to come together and formulate their strategy. If you're on a cruise ship, it takes a while to turn that thing around and get it back on course. It is going to take time. You are not going to be able to fix everything in 107 days."
Considering Trump's request for a Justice Department guidance now falls on the shoulders of Attorney Gen. Jeff Sessions, Family Research Council President Tony Perkins told CP that he's "comfortable" with where Sessions lies on the religious freedom issue.
"They are trying to be a little smarter in the way they do these executive orders," Perkins said. "I think where we end up with this executive order, the outcome will be the same. It's a multi-step process."
Critics of the order have also claimed that the provision instructing the IRS to relax enforcement of the Johnson Amendment on churches is not that big of a deal because the amendment isn't aggressively enforced on houses of worship and the amendment can only be repealed by an act of Congress.
However, Eric Rassbach, the deputy general counsel at the Becket Fund, told CP that the Johnson Amendment has a "chilling effect" on churches and even though it is not aggressively enforced, it still effectively silences churches and pastors afraid of losing their tax-exempt statuses.
Additionally, he explained that over the years, the IRS has sent hundreds of letters to churches threatening to investigate them for political speech. Rassbach says that even though the IRS has only taken one church to court (over political ads opposing President Bill Clinton), the letters do a good job of silencing churches.
"There is a big difference in saying, 'This is what the law is and we might enforce it against you' versus, 'This is what we decided this is not what the law is," Rassbach said. "The chilling effect applies to pastors who have never gotten the letter. They know that the IRS is looking at it."
Gregory Baylor, a lawyer with Alliance Defending Freedom, argues that "Americans cannot rely on the discretion of IRS agents, some of whom have abused that discretion for years to silence pastors and intrude into America's pulpits."
Perkins thinks critics might be overlooking what Trump said during his remarks in the Rose Garden before signing the order, in which he declared "we will not allow people of faith to be targeted, bullied or silenced anymore."
"If you look at his speech, he made statements that rival Reagan in terms of support for religious freedom and bringing the whole idea of Christians and people of faith into the public square and being free to speak. I think his speech was outstanding that the comments he made were very encouraging," Perkins said.
"A large part of what the president does in shaping the culture is using the bully pulpit to push back on the bullies of Christian expression and faith. The fact that he has made this a priority and he is speaking so clearly and directly to it, as you will notice by what he released yesterday that this administration's policies will 'protect and vigorously promote' religious freedom, that is significant and I don't think it should lost in this discussion."
But since executive orders are only as permanent as the presidents who sign them, Staver says that Congress needs to pass laws that will permanently repeal the Johnson Amendment and laws to protect religious freedoms of individuals and faith-based organizations in order to make the intent behind Trump's executive order stick.
"Those kind of laws protecting religious freedom need to be put into statute so that the purpose of the executive order will long after the president leaves office," Staver explained.