Donald Trump 'Fired' From Macy's, NBC, Univision Amid Controversial Remarks Saying Immigrants Are 'Killers and Rapists'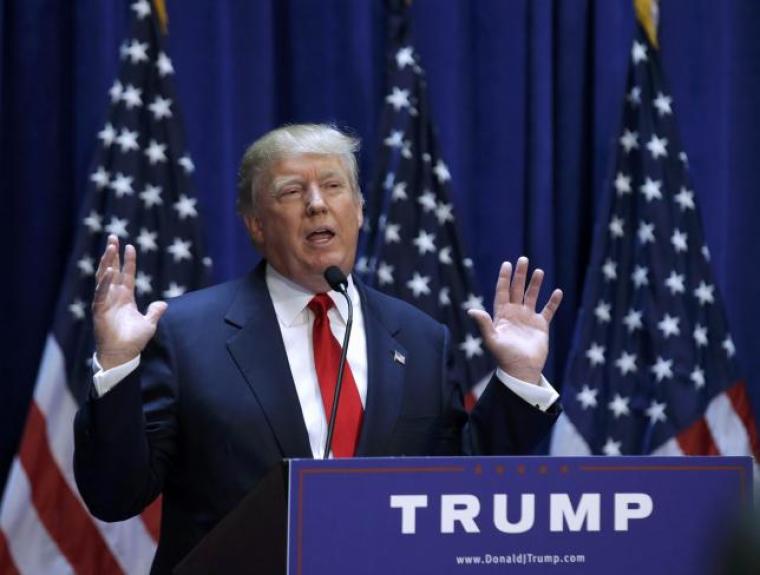 Macy's is the latest big-name company, following NBC Universal and Univision, to sever its relationship with billionaire businessman Donald Trump following the GOP presidential candidate's controversial remarks that immigrants from Mexico and other countries coming into the U.S. illegally are "killers and rapists."
"We are disappointed and distressed by recent remarks about immigrants from Mexico. We do not believe the disparaging characterizations portray an accurate picture of the many Mexicans, Mexican Americans and Latinos who have made so many valuable contributions to the success of our nation," Macy's explained in a statement about its decision to pull Trump's merchandise from its stores.
"In light of statements made by Donald Trump, which are inconsistent with Macy's values, we have decided to discontinue our business relationship with Mr. Trump and will phase-out the Trump menswear collection, which has been sold at Macy's since 2004."
NBC and the Univision network have both said that they will not air the Miss Universe pageants, of which Trump is co-owner.
Al Jazeera America reported on Thursday that New York City officials are also reviewing the city's contracts with Trump, with Mayor Bill de Blasio slamming the GOP candidate's initial remarks.
"Donald Trump's remarks were disgusting and offensive, and this hateful language has no place in our city," de Blasio said in a statement Wednesday.
The controversial remarks in question refer to an interview Trump did on Sunday with CNN's Jake Tapper, when he said:
"I like Mexico. I love the Mexican people. I do business with the Mexican people, but you have people coming through the border that are from all over. And they're bad. They're really bad. You have people coming in, and I'm not just saying Mexicans, I'm talking about people that are from all over that are killers and rapists and they're coming into this country."
The Republican presidential hopeful has since clarified his remarks and insisted that he's had a "great relationship with Mexico and the Mexican people," but said that the ongoing rape crimes are real.
"Go to Fusion and pick up the stories on rape," he said, referring to Fusion network reports. "All I'm doing is telling the truth."
When CNN's Don Lemon noted that the stories on Fusion are about women being assaulted, not criminals coming across the border, Trump said: "Well, somebody's doing the raping, Don! I mean somebody's doing it! Who's doing the raping? Who's doing the raping?"
In an interview with The Christian Post last July two U.S. residents from Guatemala and Honduras said the increase of illegal immigrants coming in from Central America started five years ago, during the first term of the Obama administration.
"It all happened by word of mouth," they said. "People called their relatives and told them that when they get to U.S., they'll be given papers and allowed to stay in the country. ... The U.S. must secure the border. The government should've secured the border as soon as they started seeing large groups of people crossing into the U.S."
"Not everyone is coming to the U.S. to work," they asserted, explaining that many people believe they'll be supported financially through government programs.
The U.S. residents from Guatemala and Honduras told CP that it's important to understand that many Central American teenagers are leaving their homes to come to the U.S. illegally, despite their parents and grandparents objections.
"They all want to come to the U.S., it's the thing to do," the residents told CP. "Some of these teenagers are in gangs and they work for the cartels or are forced to work for the cartels. We don't want these people in the U.S. ... The young children, maybe they should stay if their parents are here, but the teenagers who left, they need to go back."
The residents also emphasized that Americans shouldn't assume that all of the illegal immigrants coming to the U.S. through Mexico are from Central America.
"People from all over the world travel to Guatemala hoping to get to the U.S. through Mexico — people from China, Brazil, even Cuba, everywhere," they added.
After Macy's announced its decision to pull Trump's products from its stores, the businessman accused the retailer and NBC of supporting illegal immigration in a separate statement.
"Both Macy's and NBC totally caved at the first sight of potential difficulty with special interest groups who are nothing more than professional agitators, who are not looking out for the people they purport to represent, but only for themselves. It is people like this that are actually running our country because our leaders are weak and ineffective," Trump said.