Major Pro-Wrestling Organization's Main Program Moves to Wednesdays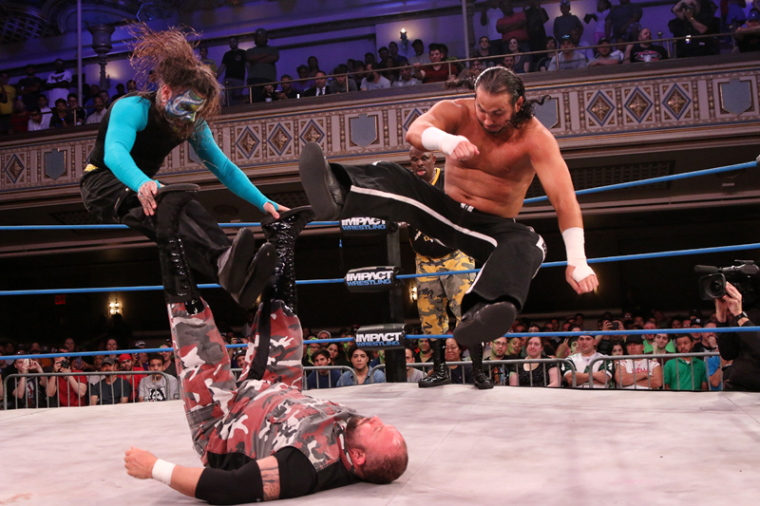 A major pro-wrestling organization in the United States will be moving its flagship program to Wednesday evenings, after years of being on Thursday nights.
After years of being in the same weekly time slot, Total Nonstop Action announced last Thursday that its program, "Impact Wrestling," was going to air on Wednesdays beginning this week.
In a press release, TNA referred to the changed schedule as a "permanent move" for their programming, which has aired on Spike TV since October 2005.
"'Impact Wrestling' has enjoyed sustained ratings growth this summer, drawing over 1.5 million viewers each week this quarter, and is among the most watched cable series in key male demos in its timeslot," stated TNA.
David Schwarz, spokesman for Spike TV, told The Christian Post that 'Impact Wrestling's' changed timeslot was jointly agreed upon by both parties.
"Spike TV and TNA jointly decided to move to Wednesdays because of increased sports competition on Thursday nights," said Schwarz.
Schwarz also told CP that the long running reality television series COPS was going to fill the Thursday evening timeslot at 9 p.m. Eastern Time to 11 p.m. ET.
Founded in 2002 and headquartered in Nashville, Tennessee, TNA made its television debut on Spike TV in October 2005.
Its Thursday evening programming led it to be the second largest pro-wrestling company in the U.S., behind World Wrestling Entertainment.
This is not the first time that TNA has changed its timeslot away from its typical Thursday evening position.
In January 2010, TNA moved "Impact Wrestling" to Monday evenings in an effort to compete with WWE and its flagship program, "Raw."
By May of that same year, TNA moved back to Thursday evenings after losing the ratings war with "Raw," as noted by Marc Yeager of wrestleenigma.com.
"TNA gained nothing from the experiment besides wide spread ridicule and a ratings spanking the magnitude of which they still haven't recovered," wrote Yeager in 2013.
"So as simple a move as challenging WWE was, it's been hell for TNA to recoup their viewership losses and their view in the eye of wrestling fans throughout the world."
The change in weekly schedule comes as TNA and Spike TV remain in talks over a new television contract for the pro-wrestling company.
Many online have claimed that Spike and TNA are on bad terms, with the former being specifically opposed to resigning the company.
Others, including TNA President Dixie Carter, have brushed off the rumors and countered that these negotiations are typical.
Regarding the move to Wednesday, Carter said in a statement last Thursday that the move away from their tradition timeslot is a positive one.
"Moving 'Impact Wrestling' to Wednesday nights gives existing fans and new viewers an opportunity to enjoy both wrestling and live sports even more throughout the week," stated Carter.
While not mentioned as a specific cause for the move, it has been reported elsewhere that TNA rival WWE may move its second-tier program SmackDown to Thursday evenings from its current position on Friday nights on the SyFy channel.
"Once the new TV deal with NBCUniversal was announced, the only comment made on SmackDown's status was that it 'currently' airs on Friday nights. Nothing more," reported Geno Mrosko of cagesideseats.com earlier this month.
"That led to speculation, of course, that a change would be coming, perhaps as soon as the announcement of the fall schedule."