Man Killed Inside Church After Argument Over Seats Reserved With Bibles, Authorities Say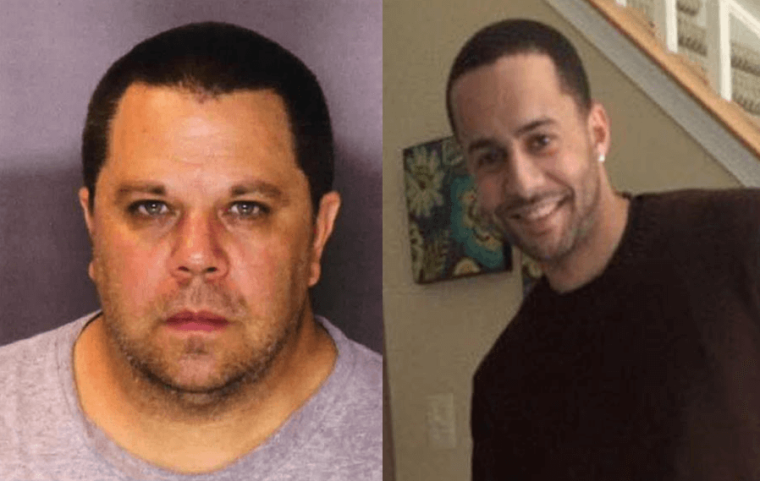 A troubled man who eyewitnesses say just wanted to worship his "own way" on Sunday was shot dead during a service at the Keystone Fellowship Church in Montgomeryville, Pennsylvania, following a fight over seats, says authorities.
The tragic details of the final moments of 27-year-old Robert E. Braxton III's life are revealed in an affidavit of probable cause against his alleged killer, Mark T. Storms, 46, of Lansdale Borough, Pennsylvania. The document was shared with The Christian Post Friday by the Montgomery County District Attorney's Office which has brought voluntary manslaughter and reckless endangerment charges against Storms based on multiple eyewitness accounts and a statement from Storms.
A joint investigation by the Montgomery County detectives, Montgomery Township Police and other law enforcement revealed that based upon more than 50 witness interviews, Braxton arrived at the 11 a.m. service at the church and was verbally disruptive and agitated.
Storms, who is a church member, told police that he carries his gun as often as he can, including to church, and has a concealed weapons permit from Montgomery County.
He said he was sitting in the rear of the church in the overflow area with his wife and son when he heard the commotion with Braxton who was wearing a baseball cap.
Storms said an usher attempted to calm Braxton down but Braxton pushed the usher and began making threats by leaning in on them and poking his finger in their faces.
He further explained that when ushers began moving other churchgoers out of the area he walked over to the row in front of Braxton and said: "Sir, can you step outside with me?"
He said Braxton told him, "Don't put your hands on me," and "I don't have to go outside."
He explained that because Braxton was standing in front of him with clenched fists he lifted his shirt and "put my hand on my weapon but did not take it out of the holster."
Storms said he told Braxton, "We really just need you to go outside and talk." Storms said Braxton then punched him in the left side of his face and it stunned him. He said he put his hand up to his face because it felt like it was bleeding. He said Braxton then began to charge at him with both fists clenched and he fired two shots.
"There was no one behind him when I shot," he told police.
Storms said that Braxton stumbled and then got up and went past him. He said after he fired his gun he holstered it and started asking that someone call 911 because he left his cellular phone in his car.
He told police that he fired the shots at Braxton because he felt his life, as well as the life of the other parishioners, was in danger from Braxton's clenched fists.
"I felt that my person was in great danger. … I was worried about the other people in the church and that someone else was going to get hurt. There are elderly people and children in the church and I was worried for them," Storms told police.
"I had no intention to hurt him or kill him, I was trying to stop him because I was afraid he was going to hurt me and other people," he added.
Some witnesses who spoke to the police indicated that Storms made things worse by inserting himself and a gun into a situation that the ushers were handling.
Michael Hendrie told police that he was about 10 to 15 feet away from the altercation. He said Braxton walked to a seat and began moving papers out of the way. He said a male who was seated behind him tapped Braxton on the shoulder and appeared to tell him the seats were occupied. Braxton turned around and said: "Why do you have to [expletive] touch me? Don't [expletive] touch me again."
Hendrie said people came over after Braxton became aggressive and began acting erratically telling the ushers "leave me alone. Leave me the [expletive] alone."
Hendrie said the associate pastor whispered to calm Braxton down and they then all left him by himself.
Shortly after that Storms walked over from the back and stood in front of him and said, "Let's go outside, let's go outside."
Braxton told him, "No, I ain't going nowhere with you." Hendrie said he saw Storms hold something up in front of his body, step back, and started patting his right side showing the imprint of a handgun through his shirt. After seeing that he said he told his family to get on the ground. He said he heard a sound like a fist hitting flesh and then Storms pull out his gun. Braxton ran around the chairs in front of him and he heard two shots.
Connie Gibson told police that she intervened during the confrontation between Braxton and the ushers and she asked if she could sit with him. She said that Braxton had calmed down and stopped yelling until he was approached by Storms.
She said Braxton shouted, "Is that a gun?" She also saw him punch Storms and described hearing a gunshot.
Kent Himelright, who is an usher, said when he saw Braxton at church on Sunday he thought it was unusual that he would come to church with rolled up pants.
Braxton, he said, sat down in a pew that had been occupied by others who left their Bibles on the seats as if to reserve them. A man who was sitting behind Braxton told him the seats were reserved but Braxton responded angrily, asking the man not to touch him. Several ushers then tried to get him to leave and he refused until a pastor told them to leave him alone.
Gordon Hower said when Storms asked Braxton to leave, Braxton told him [expletive] you, I'm not going anywhere, I just want to worship my own way."
Despite Braxton's agitation, the Montgomery County District Attorney's Office said "Robert E. Braxton III arrived at the service only armed with his Bible" and Storms acted without legal authority.
"Storms is not and has never been an usher nor does he have any official functions in the church. Storms approached Braxton after hearing the commotion, and displayed a Concealed Weapons Permit badge and pointed his Ruger LC9 handgun at Braxton," said the affidavit.
"Storms then acted without legal authority and told Braxton he had to leave the sanctuary. Braxton then struck Storms in the face at which time Storms fired two shots which struck and killed the unarmed Braxton," it further noted.
Lead pastor of Keystone Fellowship Church, John Cope, thanked the district attorney's office for their work on the case in a letter on the findings and said they were focused on ministering to Braxton's family.
"We wish to thank the Montgomery County District Attorney's office for its careful and thorough work in processing the evidence pertaining to this case, and we thank our community for the tremendous outpouring of support during this difficult time," he wrote.
"We have been focused exclusively on ministering to the hurting, especially the Braxton family. It is the District Attorney's job to administer justice, and it is our job to help those effected cope with this terrible tragedy. We have been 'weeping with those who weep,' (Romans 12:15)," he added.
READ THE COMPLETE AFFIDAVIT BELOW: