'Man of Steel' Review: The Superman Film We Needed
Zack Snyder's take on Superman and his universe challenges older interpretations with a film filled with well-developed characters and cast worthy of bringing this classic franchise back to life.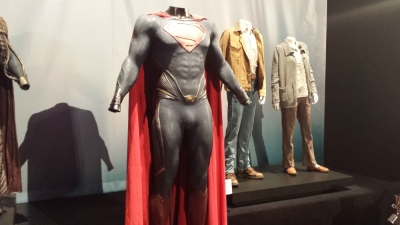 "Man of Steel" is not the Superman most will expect, but it is definitely one to make you believe this hero could be relevant in a film genre that is currently dominated by powerless crusaders such as Iron Man and Batman. Their "realness" and relatable traits help to bridge the gap between the comic book universe and our world in films such as "Batman Begins" and "Iron Man." Snyder was able to do this with the Superman character and set up a story that will unravel into even greater sequels.
The screenplay, penned by David S. Goyer -- he took on the task of reviving Batman in 2005 -- presents another engaging origin story that follows a different format in "Man of Steel."
The film opens with a segment on the planet Krypton where Superman's biological father Jor-el sends his newborn infant son to Earth in hope of him having the opportunity to live a full life as their home planet has been doomed for destruction. Chronology is abandoned once he gets to the planet, as the audience is shown Kent's life there at different times and in no particular order, beginning with him working on a ship as a young adult saving his crew. The creators took a different route than "Batman Begins" and other comic book heroes, which made the film feel fresh while re-establishing the franchise that Christopher Reeve once ruled.
Russell Crowe plays a fantastic Jor-el and functions as the "soul" of the movie. Kevin Costner also takes on the role of Superman's father, except he is the earthly one in charge of sorting out his son's supernatural abilities. His performance, along with Diane Lane's who plays Martha Kent, were both heartfelt and believable.
Henry Cavil brings a modern look to Superman while also doing justice to the source material as his physical build and general appearance resemble the character's likeness from the actual comic. Amy Adams reinvents the role of Lois Lane making her smart, giving her depth, and a reason for Superman to fall in love with the character.
The only underwhelming performance was that of Michael Shannon, who took on the role of General Zod, the film's main antagonist and former military leader from the planet Krypton. Although he didn't do a bad job, Shannon's ability to play evil roles seen in other works such as "Revolutionary Road" and "Boardwalk Empire" simply wasn't showcased in this film. He took on the part without adding any flare to it and as a fan of his, I was left disappointed.
Traditional Superman fans might be a bit peeved from the absence of underwear on the hero's costume, but the visual changes made from the older films, comics and cartoons worked well in the movie. Zod and Jor-el's outfits looked great as they were closer to Superman's infamous costume making it nothing more than a Kryptonian style of dress. This added an element of realism to the film.
Faith also played a central role in "Man of Steel," as Superman is portrayed as a savior to his world. He is frequently paralleled with Jesus Christ in this film in a way that is not offensive to believers and pays homage to many of the themes and stories found in the Bible. Some of the comparisons are made quite obvious. Other messages and dialogue invoke deep theological thought and are impressive from a Christian point of view. There is some foul language used in the beginning of the film, but it is used sparingly.
The action in the film is fast-paced, and truly showcases all of Superman's powers as he is pitted against Zod, who is a formidable opponent with an equal amount of strength. The fight scenes do get a little repetitive and can run long, but comic book fans will salivate once they see Superman punching Zod's lights out and vice versa. General moviegoers could be bored, though.
Overall, "Man of Steel" should be a film that pleases both comic book and film fans. The story is compelling, the visuals are mindblowing, the score invokes the right emotions, and the acting brings these older characters to a place of relevancy in today's society.
Man of Steel Official Clip - It Hurts, Doesn't It!? (2013) Superman Movie HD