Manny Pacquiao Says Hearing God's Voice Changed His Life; 'Jesus Is the Only Way'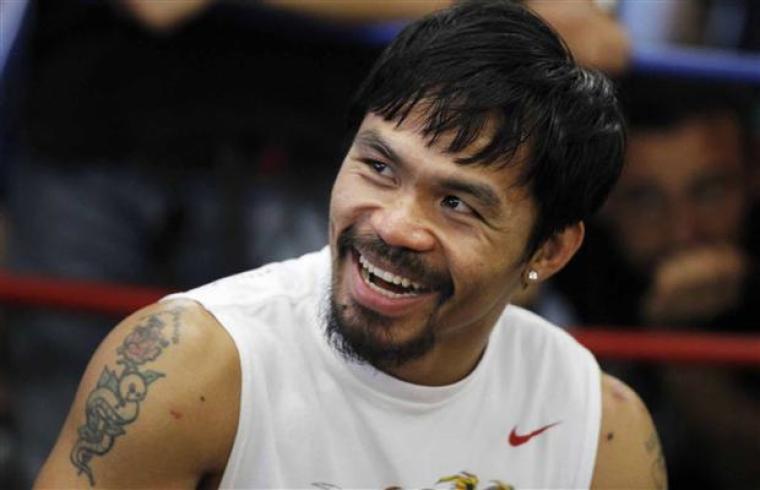 Manny Pacquiao, a world-famous Filipino professional boxer, recounts in a media interview how his life changed after he heard the voice of God and saw two angels, and says he wants the world to know "there is only one way of salvation, only through Jesus Christ."
"I heard the voice of God and I saw two angels," Pacquiao, who is also a basketball player and a politician, told The Blaze in a recent interview.
"When I heard the voice of God I felt like I died. … I was in the middle of the forest and I was kneeling and praying with my face on the ground and then I saw a light, a very white light and I heard the voice," the 36-year-old boxer, who has won 10 world titles, said.
Pacquiao, the 14th highest paid athlete in the world as of 2013 according to Forbes, added that he doesn't take credit for his devotion to God. "I'm really thankful that God has given me this kind of a heart," he said.
The boxing champion, who is also a congressman in the Philippines, a Catholic-majority country in Southeast Asia, has a burden to introduce Jesus to people around the world.
"I just want to let them know that — all over the world — that there is only one way of salvation, only through Jesus Christ," he said. "They have to know about Jesus and believe. If they don't believe, they don't have salvation, because the Lord Jesus is the only way of salvation."
He is ministering to people and building a church in the Philippines. "We are starting building the church and also helping the people, giving them shelter," he said.
Even as a politician, he says, his job is to make Jesus known.
"The Lord has blessed me [with] everything I have … [my] political career and serving the Lord and being a boxer — and I believe God has a purpose," he said. "It is behind my expectation and imagination. I think it's time to proclaim his name, not mine."
In October, Pacquiao told The Guardian that he gets a lot of dreams and visions.
"I even heard the voice of God. When I heard the voice of God, I am trembling and melting. I feel I have died. It was an amazing, amazing experience."
He added, "I'm happy because I found the right way, salvation, born again. We are required to be born again, all of us. Christ said unless we are born again we cannot enter the kingdom of God. So it's very important to me. Jesus Christ said: 'I am the way and the truth and the life. No one comes to the Father except through me.' There is no other way. The only way is through Jesus."