Christian Boxer Manny Pacquiao on Floyd Mayweather Jr.: I Pity Him, He Should Fear God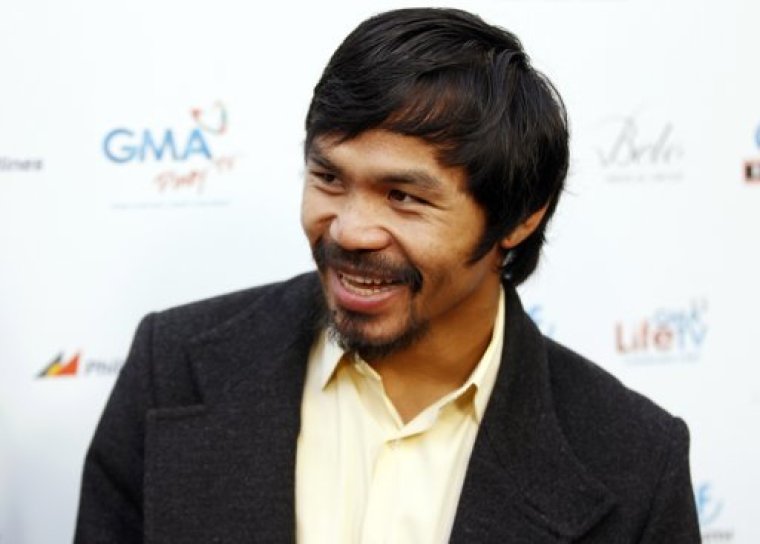 Manny Pacquiao recently revealed that he pities professional boxer Floyd Mayweather Jr. and suggested that he should get to know God instead of flaunting his wealth as Mayweather is known to do.
Pacquiao made the comment after Mayweather posted several photographs on his Instagram account, showing Pacquiao knocked down in his past fights with the caption, "Miss Pac Man is broke for a pay day."
"I'm not affected by it. I pity him and I pray that someday he would change his ways. He should fear God. 'For what is a man profited if he shall gain the whole world and lose his own soul?,'" Pacquiao told AFP News , quoting the biblical passage Matthew 16:26.
The recent back-and-forth between the two began when Pacquiao tweeted about Mayweather last week in the wake of a Nevada State Athletic Commission hearing over a Mayweather reality show on Showtime.
Boxing fans have been anticipating a match between Pacquiao and Mayweather for years. Both men have champion fighting records, as Mayweather stands undefeated in 47 fights, while Pacquiao has had 56 wins.
Earlier this month, Pacquiao also expressed why a fight has not happened yet in an interview with NJ.com, where he also called Mayweather "uneducated."
"He is not afraid of fighting but perhaps of what one night could do to his zero losses," said Pacquiao. "I think I finally understand him … what he says … how he acts … and I don't like it. But what l learned and heard from him, well, I realize why he is like that. I understand sometimes when the people are not educated they just talk to talk. He sets a very bad example."
Pacquiao is also known for his grounded Christian beliefs and his uncanny ability to memorize biblical passages. In an interview with Pastor Rick Warren in 2012, the champion boxer revealed that Warren's book, The Purpose Driven Life, had been the basis for him committing his life to Christ.
"Manny started out as a young man in a very poor family of six and his mom couldn't take care of him so she kicked him out at 14 and he lived on the streets of Manila. That's where he learned to fight," Warren told his congregation attending Saddleback's main church campus in Lake Forest, California.
"He read Purpose Driven Life and came to Christ. He told me, 'Rick, the first time I read through that book I cried through every chapter.' And he said, 'I've given it out to everybody who I know. Now, I'm a Christian, I make all my team … we all memorize Scripture together.'"