Marco Rubio: Intolerance in the Name of Tolerance Is Hypocrisy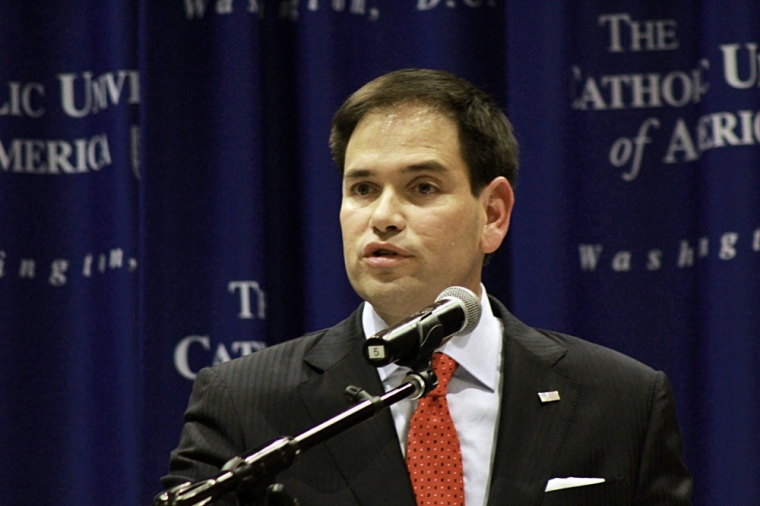 WASHINGTON — U.S. Sen. Marco Rubio, R-Florida, condemned liberal intolerance toward those who support the traditional definition of marriage in a Wednesday speech at the Catholic University of America in Washington, D.C.
Rubio began that portion of his speech, which dealt with the role of culture and values in alleviating poverty, by acknowledging the discrimination suffered by gays and lesbians. Federal law, he noted, used to ban the hiring of gays and some local ordinances banned the serving of gays at bars and restaurants.
He said he respects the arguments in favor of same-sex marriage and concedes "that they pose a legitimate question for lawmakers and for society."
He supports, however, the traditional definition of marriage because of its demonstrated record of success with regard to the raising of children.
"Since traditional marriage has such an extraordinary record of success at raising children into strong and successful adults, states in our country have long elevated this institution and set it apart in our laws," he said.
Support for the traditional definition of marriage is not motivated by a desire "to discriminate against people who love someone of the same sex," he explained, "but because I believe that the union of one man and one woman is a special relationship that has proven to be of great benefit to our society, our nation and our people, and therefore deserves to be elevated in our laws."
States have the right to define and redefine marriage, Rubio argued, but that right lies with both the supporters of traditional marriage and same-sex marriage. Judges should not make those decisions, he complained.
Tolerance is "a two way street," Rubio added, as he called on same-sex marriage supporters to "respect those of us who support traditional marriage."
He noted some of the recent examples of liberal intolerance toward supporters of traditional marriage, such as when the CEO of Mozilla was forced out of his job and when Chick-fil-A was boycotted.
"This intolerance in the name of tolerance is hypocrisy," Rubio said.
If supporting the traditional definition of marriage is bigotry, he added, "then Barack Obama was a bigot until just before the 2012 election."
FOX19.com-Cincinnati News, Weather