Mark Burnett, Roma Downey Partner With Women of Faith, 'Believe God Can Do Anything' Tour
Billed as the country's largest gathering of Christian women, the Women of Faith organization has announced an expansion to its lineup of speakers and music artists headlining its 24-city live-events tour this summer. In addition, the ministry has partnered with "The Bible" producers Mark Burnett and Roma Downey to incorporate parts of the highly successful History Channel program into its "life-changing" tour.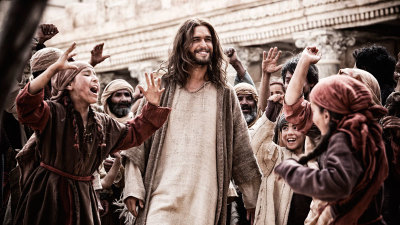 "The Bible is a sacred text that continues to challenge and inspire. We've been working on this project for the past four years and are deeply humbled to be given this once-in-a-generation opportunity to breathe new visual life into the Bible's profound stories," Mark Burnett, three-time Emmy Award winner and well-known producer, has said.
His wife and co-executive producer of "The Bible" series, Roma Downey, added, "We are excited to partner with Women of Faith to share with women across the nation the impact our Bible has made on history. Having stepped into the role of Mother Mary myself, I know firsthand the great impact women have had on God's love story for all of us."
The Women of Faith Believe God Can Do Anything 2013 tour, that kicks off Aug. 2 in Oklahoma City, Okla., and wraps up Nov. 1, in Hartford, Conn., is taking its two-day live events to a new level, according to a press release from the Harper Collins-owned organization.
The tour, whose theme "was created to inspire women to let go of the pain, planning and stress by handing their lives over to the only One who can make anything possible, God," will feature a long list of impactful Christian leaders, such as Sheila Walsh, Christine Caine, Lisa Harper, Max Lucado, Priscilla Shirer, Judah Smith, Rich Stearns, and many others. Musical guests include Kari Jobe, MercyMe, Third Day and CeCe Winans. Information about registration, starting at $49 for single seats, and stops on the national tour is available on WomenOfFaith.com.
"Whether it is a broken family situation, breast cancer or illness, infertility, problems with children, loss of a spouse or child, financial or marital difficulties, we want women to know that God is the ultimate healer and by clinging to Him pure refreshment will take root in their lives," said Debbie Stuart, Church and Leadership Development Director for Women of Faith. "What we can offer at our events is hope and experiential renewal."
Women of Faith, a division of Harper Collins Christian Publishing, was founded in 1996 and organizes live events across the U.S. to help inspire and encourage women in their walk with God. The organization hopes to reach 5 million women through its Believe God Can Do Anything 2013 tour.