Mars Hill Orange County Church Pressured to Move From Rock Concert Hall
SANTA ANA, Calif. – Pastors from Seattle-based Mars Hill Church are struggling to understand why conducting worship services by way of rotating into the weekly schedule of an active rock concert venue in Orange County on Sundays is a problem with city officials.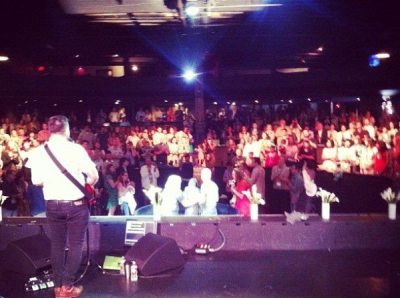 Irrespective of their thinking, Santa Ana's building and planning department says the church is operating in a no-church zone and has served an eviction notice. Mars Hill Orange County may become homeless at any moment, say church leaders.
The church has been holding services at The Observatory (formerly known as The Galaxy) for little more than half a year under a special contract with its owners that allows them to use the facility to setup, conduct, and breakdown church every Sunday. The rest of the week, the venue, which seats several hundred people, is used for nightly concerts, mostly from the rock genre.
"I honestly don't understand this because it's a concert venue and so it's a huge room where people come in, a band plays on the stage, and the place packs out with people. On Sunday, a band takes the stage and it fills up with people," said Mars Hill lead pastor Mark Driscoll during a video posted on the church's website.
"They say we can no longer use the space. [However,] we don't have our children in there. They are actually in a separate building next door. It's not a parking problem. There's plenty of parking. It's not a traffic problem. It's Sunday, lots of accessibility, no issues whatsoever. So, we're not exactly sure what the problem is. The truth is we've been asking a lot of questions and we are not getting a lot of answers," Driscoll explained.
Jay Trevino, Santa Ana's executive director of Planning and Building Agency, told The Christian Post that the city would love to have Mars Hill Church in the community though "they would need to comply with the same rules to which all other churches abide."
Trevino said that the city views the issue as strictly a zoning issue.
"What they are doing is conducting a church under our zoning ordinance. Churches aren't allowed in that zoning district, but are allowed in many other zoning districts," he said.
However, Driscoll said Mars Hill has retained legal counsel, saying it's needed "if we find that we are just getting bullied by a political discriminatory agenda against Christianity and the church."
"If we find out as well that it's just somebody on a council somewhere that has an axe to grind against Christianity we will hold our ground," Driscoll said. "If we do, in fact, find that somehow we are violating laws and rules that don't make a lot of sense to us we will obey the governing authorities like the Scriptures say."
Trevino discounts any idea that implies the city is acting out of religious intolerance.
"Santa Ana embraces religious institutions of all types. In fact, about two-thirds of our zoning districts allow churches," the city planning director said. "The city staff has gone above and beyond to help Mars Hill in finding locations, including contacting a perspective landlord on Mars Hill's behalf."
Pastor Nick Bogardus, who leads Mars Hill OC, told CP that he has a long, fond history with the city and wants to comply with its regulations even though he may not understand them.
Still, he says the last seven months have been frustrating. The city made it clear from the outset that the church could not stay long term, Bogardus said.
"We have been actively looking for a place since we've moved in there in October," he said. "We are just praying for God to open some doors."
Although a deadline for vacating the premises has not been set, Bogardus said the city has been putting on extra pressure to move.
"If they throw us out we'll worship Jesus in a park or on the beach," he said.
"It's been hard, but at the same time I have a tremendous amount of hope because I really do believe that where there are no options God does his best work … The fact that we don't have any options for the building seems small compared to what He has already done."
Despite the temporary situation, the church has grown from about 200 members to 600, and its community groups (Bible studies) have gone from there being only one to currently 20. "That's a wonderful measure of success. There's people speaking the Gospel into the community," he said.
The congregation is now fasting and praying every Wednesday.
"As a church we kind of stepped into that. We've said we are not going to grumble, like Israel in the desert. We're are actually going to get ourselves together and when He opens that door we will be ready," Bogardus added.
READ: IS THE GOSPEL OF JESUS STILL RELEVANT?
Why You Can't Predict The End Of The World - Mark Driscoll