Matt Chandler Warns Young People Against Believing in Moralism: 'It's a Lie From Hell'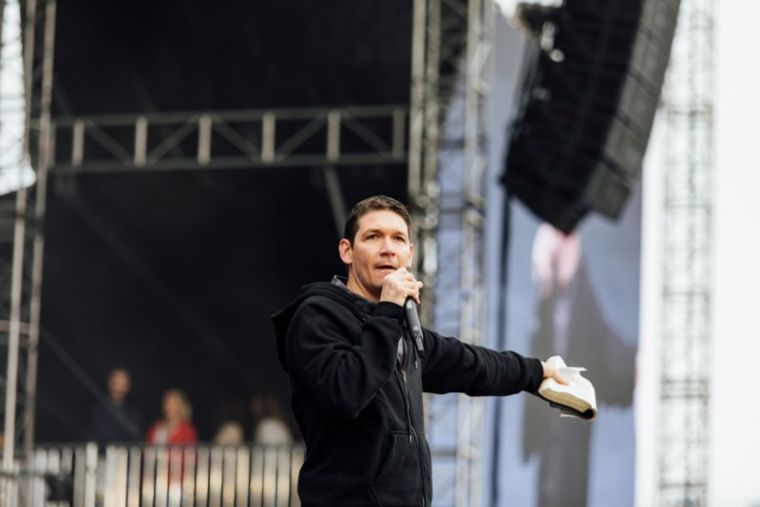 Matt Chandler has warned young people against becoming "slaves to a type of works-based righteousness that has no power to change your life," calling moralism a "lie from Hell" and assuring that Jesus loves His children right where they are" — no matter how broken.
Chandler, lead pastor at the Village Church in Flower Mound, Texas, told thousands gathered at Texas Motor Speedway for Together 2018 that it's easy, as a teen or millennial, to fall prey to the idea that Jesus can only love some future, perfected version of them.
"You start to believe, 'Man, if I could just stop doing this, or start doing this, or just get away from this, then He would love me,'" Chandler said.
"And yet, the Gospel would say that while you were at your worst, Jesus saved you," he continued. "It wasn't when you got your act together, it was not when you stopped doing this or when you started doing this. No, it's when you believed upon the promises of Christ's life, death, and resurrection. It's when you turned from the world and you faced Him that the Gospel took root in your life."
When we forget this important truth, Chandler said, we "drive joy out" and begin living a secret, duplicitous life.
"It's not what Christ died to bring you," the pastor continued. "He died to bring you into life, into joy, and we do that by staying in the Gospel, not moving on. We don't move from Gospel to moralism."
Chandler said that you can tell if people understand the Gospel by what they do when they "blow it."
"If, when you blow it, you're like, 'Well, I gotta hide from Jesus for a while,' and you run from Him until you feel like you're doing good again, and then you go back, you don't understand the Gospel," the pastor warned. "The Gospel says that while we were yet sinners, Christ died for us and that grace is sufficient."
It's easy to believe Jesus is disappointed in you, Chandler said, but the Bible tells us it's impossible to "surprise Jesus Christ with your struggles."
"He knew what He was buying on the cross," he contended. "The reason that Jesus was crucified publicly was so that you and I would be outed as weak and in need of a Savior."
Satan and a "lot of bad teaching" feeds us the lie that what Jesus really wants is for us to behave and carry out good deeds, Chandler said. When we believe this lie, we become "slaves to a type of works-based righteousness that has no power to change your life."
"I plead with you to not buy that, but to buy that, in your struggles and your weakness, in your brokenness, Jesus loves you and he has paid for your sins," Chandler said. "He does not love some future version of it."
When we believe that Jesus loves us right where we are, we are transformed, the pastor added.
"I think you're forgetting that it wasn't you at your best that Jesus died for you; it was you at your worst," he said. "Jesus knew that we would fall short, not just in the past, but that we would be stumbling forward too."
Chandler concluded his message by urging attendees not to feel "shame" when they stumble: "Your King delights in you," he said. "You are not just forgiven, you are loved and delighted in regardless of your struggle. This is the Good News of the Gospel of Jesus Christ."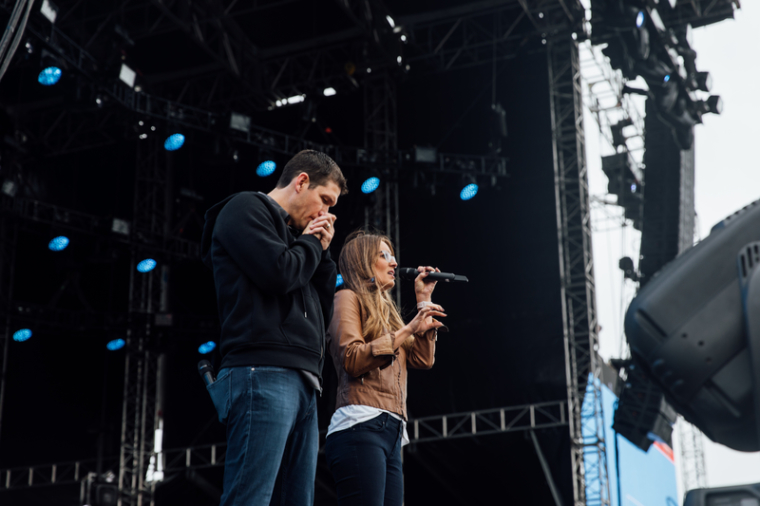 Together 2018, attended by over 90,000 people, was a millennial-led evangelism event focused on calling and equipping the next generation to move closer to one another, Jesus, and the world He loves.
PULSE founder Nick Hall previously told The Christian Post that Together 2018, held earlier in October, was the culmination of a number of movements, ministries, and denominations wanting to worship Jesus and equip the next generation to share "go out and make disciples of all nations."
"Together 2018 is a massive training and commission event geared toward millennials and Gen Z," he said. "This is a revival generation. If revival is going to happen, we feel like now is the time to equip this generation for the best of what's available. We want to bring Christians from all over the nation together in prayer to empower the Church and awaken the culture to Jesus."
In addition to Chandler, the free event featured a number of prominent pastors, speakers, and recording artists including Francis Chan, Hillsong Worship, Andy Mineo, Jesus Culture, Lecrae, Priscilla Shirer, Ravi Zacharias, Rich Stearns, Samuel Rodriguez, Tony Evans, and more.