Matthew McConaughey's 'God' Speech at the Oscars Required Courage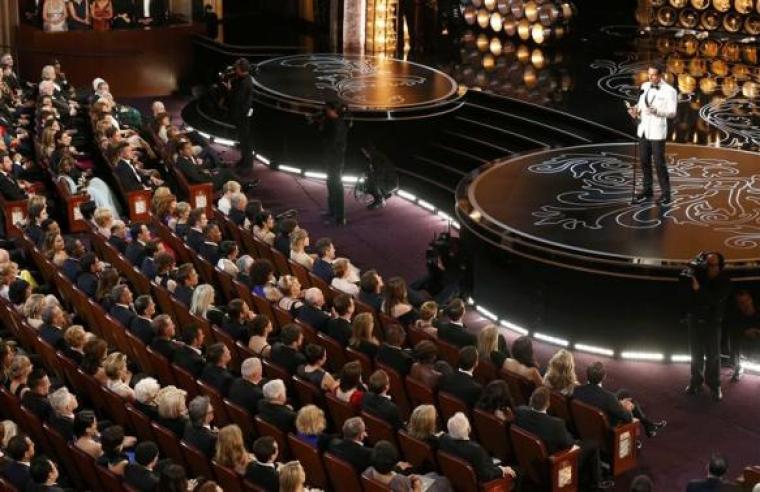 Matthew McConaughey, winner of the Academy's "Best Actor" award, gave homage to God for his victory on Sunday evening, a move that few make in acceptance speeches, according to a graphic by The Associated Press. Voices in Christian media praised his speech, arguing that it took courage.
"First off I want to thank God because that's who I look up to," McConaughey, who won the "Best Actor" award for his portrayal of AIDS patient Ron Woodruff in "Dallas Buyers Club," declared at the Academy Awards on Sunday. McConaughey added that God has "graced my life with opportunities that I know are not of my hand or any other human hand." Before thanking his wife, children, mother, and late father, the actor quoted late British Actor Charlie Laughton – "When you got God, you got a friend and that friend is you."
Dan Gainor, vice president of business and culture for the Media Research Center, argued that this speech "breaks the mold of what Hollywood's image of Christians is." According to a graphic by AP, Academy Award winners thank many people, but God is not usually on the top of their list. More frequently, they thank the Academy, their spouse, mother, father, children, and management – in that order.
Many twitter users reacted negatively to McConaughey's reverential nod to God. "Ok so you really deserved it McConaughey. Just stop the stupid god talk," one detractor tweeted. "I thought we could get through the Oscars without someone thanking god but no he had to ruin it…," another responded.
"When did Matthew McConaughtey turn into Joel Osteen?" asked Elaine L (@LaineyGossip).
Gainor argued that the actor's reference to God took a great deal of courage. "He's a young guy, he just won an Oscar – arguably at the high point of his career," Gainor noted. "That's like saying you just won the Super Bowl and you're going to thank God on national television."
Product of Hollywood's Hedonistic Culture?

"The increasing marginalization of what used to be mainstream Christianity is merely being reflected by Oscar winners," said Alex Wainer, associate professor of Communication and Media Studies at Palm Beach Atlantic University. Wainer argued that the trend against thanking God reflects a strong degree of secularization in Hollywood.
Academy Award winners "may not see God's hand in the approval of their fellow artists and thus don't thank God because they either don't see His hand in their success or may be embarrassed to be associated with such a benighted demographic as the Christian community," Wainer argued.
Gainor agreed. "Hollywood has a hedonistic culture – there's no doubt about it. It's an 'anything goes' sex, drugs, and rock and roll mentality," he declared.
Gainor did not necessarily blame the actors and directors for this, however. "Any sort of ego-fed field feeds our inherent narcissism, our lust for things that are not good, and it makes it very hard to turn to good things," he explained. Certain aspects of acting, like performing a love scene with someone who is not your wife, naturally undermines what is good.
"The family-friendly movies now are movies like 'Frozen,'" animated films that seem unrealistic, Gainor explained. "It's almost like the good things are comic book, cartoons, and the bad things are what they depict as real life."
Paul Asay, senior associate editor of Focus on the Family's Plugged In movie review site, argued that the general trend against thanking God in Oscar speeches may have nothing to do with an anti-Christian or anti-religious bias. The trend, if there is one, could speak to the fact that God is not as big of a motivating factor in the entertainment industry as He once was," Asay admitted. But he quickly added that "it could also be a demonstration that people view their faith as a more private exercise."
"Anytime you talk about God, there is going to be a little controversy about that," the reviewer argued. The Oscars do not aim to promote controversy, but try "to make people as comfortable as possible." In a way, Asay argued, "the Oscars are in the vein of Hollywood conservatism – they don't want to send any false notes."
Ted Baehr, chairman of the Christian Film and Television Commission and editor-in-chief of Movieguide, argued that the lack of gratitude to God is not limited to the Oscars. He noted that, even at the explicitly Christian Movieguide awards, which aired Monday night, "you thank Movieguide, you thank your family." When a colleague buys dinner, "you thank the person who takes you out to dinner, but not God."
Baehr expressed a preference for fewer praises to God at public events, in favor of more authentic tributes. "I'd rather have a heartfelt statement than a lot of people flapping their lips like it's what they should do," he explained. The critic mentioned rappers who thank God with their lips and then feature "abhorrent" sex acts abusing girls in their videos. He also mentioned Adolf Hitler, who appeared on the cover of Time Magazine in 1936 for "Thanking God."
"We know that Hitler was not a Christian," Baehr explained, citing the book The End of the Spear, among others.
As opposed to Hitler's false thanks, Baehr praised McConaughey's genuine gratitude. "I think Matthew is very explicit about God because he had been kicked out of Hollywood," the critic explained, referencing the actor's previous involvement with marijuana and other drugs.