Maya Angelou Dies; World Mourns Legendary Poet
Maya Angelou Dies; World Mourns Legendary Poet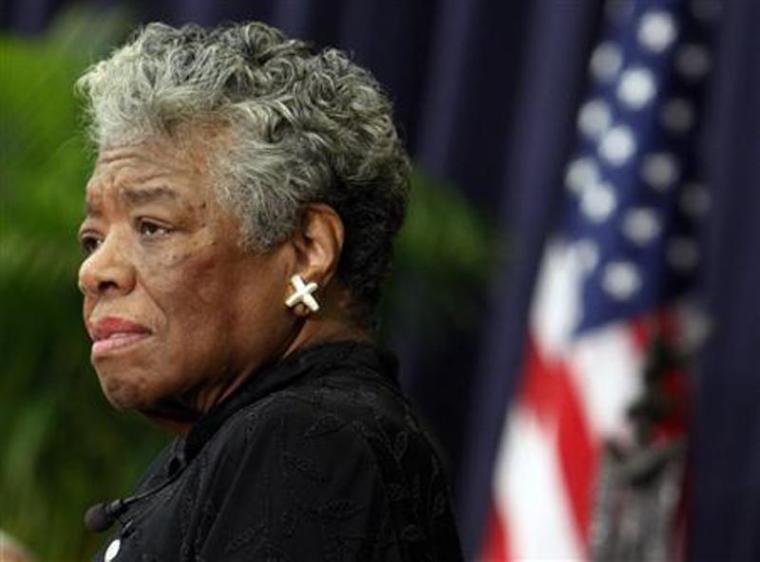 Maya Angelou, the internationally celebrated poet and author, died at the age of 86 on Wednesday, May 28.
The influential writer has penned seven autobiographies, three books of essays, and several books of poetry in addition to a list of plays, movies and television shows during a career that spanned 50 years. According to Angelou's literary agent, Helen Brann, the author died at her home in Winston-Salem, North Carolina. Additional details are pending, reported CNN.
In addition to a prolific writing career, Angelou held an array of other jobs over the course of her life, including professor, singer, actress, and dancer. After dropping out of dance and drama school in San Francisco at age 14, Angelou became the city's first African-American female cable car conductor. The author later went on to earn her high school diploma before touring Europe with an opera production. Then, in 1958, Angelou became part of the Harlem Writers Guild in New York. She was also active in the Civil Rights movement and worked with Martin Luther King, Jr. and Malcolm X.
Some of Angelou's best known work include "I Know Why the Caged Bird Sings" which documents her life up to the age of 17. The book earned Angelou international recognition and acclaim. Moreover, Angelou became the first poet to make an inaugural recitation since Robert Frost at JFK's 1961 inauguration when she recited her poem "On the Pulse of the Morning" at President Bill Clinton's 1993 inauguration.
Upon the news Angelou's death on Wednesday, social media sites were flooded with posts of mourning and respect, with RIP Maya Angelou quickly becoming a trending topic on Twitter. Among the thousands of people mourning Angelou include actress Thandie Newton who posted, "A legend," along with a photo of the poet.
Katie Couric added, "So saddened by the death of the beautiful @DrMayaAngelou."
HBO's "Girls" creator Lena Dunham added, "Thank you, Maya, for your power, your politics, your poetry. We need you more than ever. Rest in peace."