Mayan Apocalypse 2012: Chinese Man Uses Life Savings to Build Ark
French Mayor Blocks Access to Mountain Pic de Bugarach Eyed as Means of Escape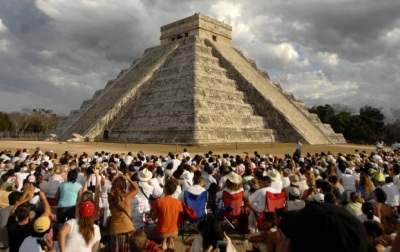 A man in China has cashed out his life savings to build an ark in preparation for the so-called Mayan apocalypse while a French official is blocking access to local mountain believed by some to provide an escape from the Dec. 21, 2012, predicted day of doom.
Lu Zhenghai, who lives in northwest China, has reportedly spent $160,000 in an effort to build an ark-like vessel to protect him from the destruction he believes might occur by Dec. 21.
"I'm afraid that when the end of the world comes in 2012, flood waters will destroy my house, so I took my life savings and invested in the construction of this boat. When the time comes everyone can take refuge in it," he reportedly told the Chinese News Service, according to Russia Today.
News sources report that the vessel, designed by Lu who also holds a science degree, is made of wood and steel and weighs about 80 tons. The only problem – Lu started building the boat in 2010 and the project has yet to be completed.
Should the doomsday claims prove untrue, however, he reportedly plans to use the vessel as a sightseeing attraction.
Lu appears to be the second Chinese citizen to conceive of building a life-saving vessel in light of the purported Mayan prophecy.
Over the summer, the New York Daily News shared the story of Yang Zongfu, who also spent a vast sum of money over two years to build "a tough, yellow bubble meant to protect riders from radiation, fire, and high temperatures." The project reportedly cost $236,100 and can house a family of three for two weeks.
In southern France meanwhile, government officials have decided to block access to a mountain in the Pyrenees that doomsday believers say will be the only thing standing after the world's end. Many reportedly believe that the mountain's Pic de Bugarach in the town of the same name hides space aliens at its base who are awaiting Earth's destruction before leaving and, according to the U.K. Telegraph, taking a few humans with them.Those anticipating the "Mayan apocalypse" are reportedly hoping to make their escape that way.
However, Bugarach Mayor Jean-Pierre Delord, whose town is home to less than 180 residents, has barred access to the peak for four days surrounding Dec. 21.
As Time magazine reports, Delord was alerted to the claims surrounding the Pic Bugarach two years ago, and put in place security restrictions to forestall the expected influx of "news agencies, esotericists and Doomsday cultists" to his town.
"Dozens of officers will block the mountain top and filter access to the village during a four-day period around December 21. Gatherings of any sort will be banned, and anyone landing in a light aircraft will be arrested, The Australian reports.
Despite assurances from NASA scientists and experts in Maya culture that the ancient calendar – reportedly spanning 5,125 years starting in 3114 B.C. – does not point to the world's doom, anxieties about the calender's concluding Dec. 21, 2012, date persist.
An Ispos poll conducted on behalf of Reuters news agency earlier this year confirmed that 10 percent of Earth's population believe "the Mayan calendar, which some say 'ends' in 2012, marks the end of the world" and another 8 percent said they had experienced fear or anxiety over such a belief.