Meagan Good Justifies Being a Sexy Christian, Defends Tia Mowry's Faith
Meagan Good, "Think Like a Man" actress who recently married Hollywood executive and Seventh-day Adventist preacher DeVon Franklin, is defending her Christianity against those who have been critical of her appearance and actions.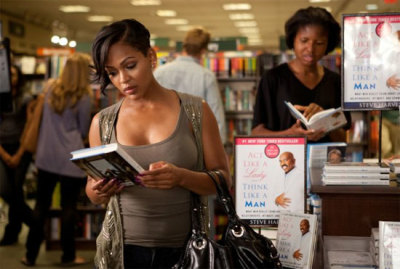 Good, 30, recently spoke with Just The Fab about being judged by other Christians, especially after she decided to perform a burlesque dance for the Las Vegas bachelorette party before her wedding.
"I almost didn't do it because I knew there would be backlash but I can't let people control my life and if God does not convict me about something or tell me that it is wrong," Good said. "Regardless of what anybody thinks, I have a personal relationship with God. We talk and we speak and I don't feel convicted about it and so I have to do what's in my heart and I can't allow people to manipulate my direction."
Good said women can be sexy in a classy way, and spoke about some religious people being judgmental of her decision to showcase that side of her personality.
" [...] I'm getting sexy and all that but there is a way to do it, there is a classy way to do everything and there is nothing wrong with being sexy or having sex appeal and I think that I am definitely going to be someone who is boldly going to go out to the masses and be someone who say, ' Look! Women its okay to do this, that and the other,'" Good said. "..I don't like [how] sometimes people who are religious will try and force everyone into a box and judge them."
While Good defended her own actions, she also justified fellow actress Tia Mowry's recent Vibe Vixen magazine cover. After Mowry, 34-year-old "The Game" actress, showcased her cleavage on the cover of the publication, some questioned her Christianity.
Good said she was hurt to hear people question Mowry's faith after they saw the magazine cover.
"It really hurt my feelings when I saw some of the comments because Tia Mowry had did the cover of Vibe Vixen and she had an itty bit of cleavage [showing] and they like ripped her to shreds, [saying] 'We thought she was Christian,'" Good said in Mowry's defense. "She is a Christian, she loves God. So because she showed some cleavage she loves Him less?"
Good said God gave females their body parts for a reason and said she would be bold in defending women who chose to be comfortable in their own skin.
"I mean, to me, it was like it's not right and you know God gave us these body parts not to go and show everything to everyone but it's okay to be sexy and to be comfortable with your sexuality," Good said. "I think there's kind of a line that gets blurred and I'm very bold about speaking out about it."
Meagan Good and DeVon Franklin Discuss Wedding Details