Meagan Good and DeVon Franklin Officially Marry After Year of Dating
Meagan Good revealed that she was trusting God to bring her a husband last year and this weekend she exchanged vows along with a first kiss with preacher and Hollywood film executive DeVon Franklin.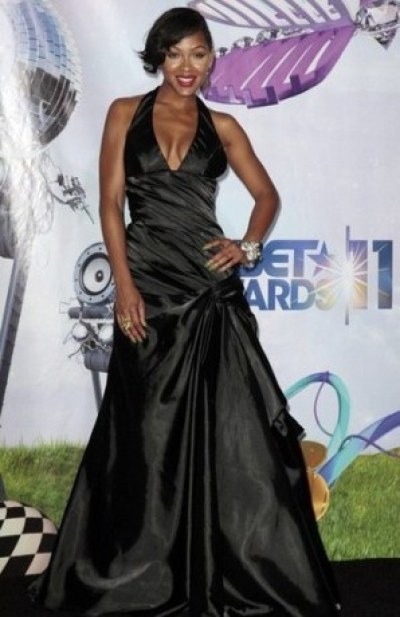 Good, 30-year-old "Think Like a Man" actress who began dating 33-year-old Franklin on the set of their joint movie venture "Jumping the Broom" exchanged nuptials at the Triunfo Creek Winery in Malibu, Calif., on Saturday, PEOPLE magazine reports. The couple welcomed 400 guests, including celebrities Tracey Edmonds, Derek Luke, Deion Sanders and Tasha Smith.
Good told PEOPLE that God revealed her heart to her new husband.
"DeVon makes me better, makes my life fuller, and completes my quality of life," Good told the publication. "He's truly on my team and I am truly on his. God revealed my heart to him like nobody else."
Franklin, VP of Production at Columbia/Sony Pictures and Seventh-day Adventist minister, admitted that his new wife has changed his life.
"I've never had more peace, fun, and joy than I've had with her," Franklin told PEOPLE.
The couple reportedly wed in a Spanish-Bayou themed reception that the bride described as "very antique looking." The train of Good's white dress was dipped in purple, which she said reflected her personality.
"It's got a bit of a masculine feel to it. I wanted something that felt a tad bit rebellious and out of the ordinary," Good revealed to PEOPLE. "That felt closer to my personality."
The pair's wedding guests witnessed performances by Jeffrey Lewis of the Craig Lewis Band and Shanice. Although they spoke about being happy in the union, the couple said that it may be some time before they began to bring children into their home.
Franklin told PEOPLE that the couple wants to "get to know each other as husband and wife," while Good explained why children wouldn't be an ideal addition to the family right now.
"We want to make sure that when we bring a child into this world we give it our full attention," the bride told the publication.
Although Good will keep her last name while appearing in movies, she will legally add Franklin to her last name.
Meagan Good & DeVon Franklin Discuss Wedding Details