Megachurch Pastor: Don't Fear Immigrants, Refugees; Love Them
Immigrants, including illegals, are not "a problem" or "a threat" in the United States; they are created in the image of God and deserve love, says a Colorado Springs pastor.
New Life Church Pastor Brady Boyd says Americans are "by and large" told to fear or despise those who come from the Middle East or Latin American countries — "What if they're terrorists? What if they're criminals? What if they take all of our jobs?"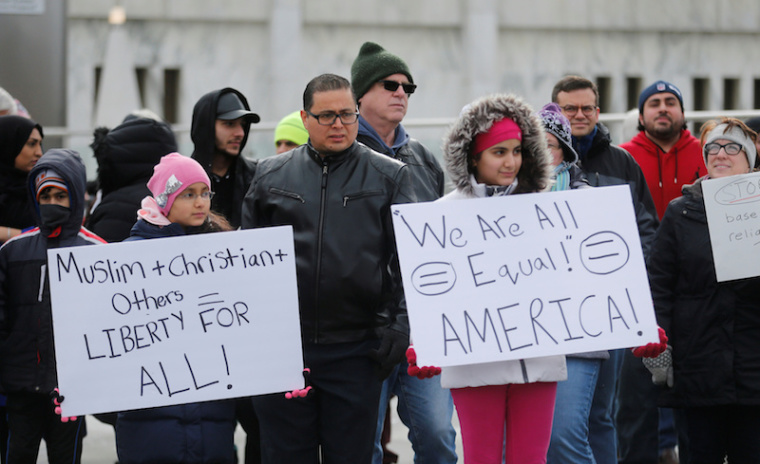 But the sole reason people immigrate to the U.S. is to escape violence and pain, the megachurch pastor pointed out in a recent blog post.
"Life in their homeland had deteriorated to the point that the only way to remain a resident there was to sell one's children into slavery, participate in the trafficking of illicit drugs, and to pledge allegiance to rampant corruption—options they were unwilling to entertain," Boyd noted.
"They came to rebuild their lives."
President Donald Trump signed an executive order on Friday that suspended entry of all refugees to the U.S. for 120 days. Also under the order, there is an indefinite ban on the resettlement of Syrian refugees and citizens of seven Muslim-majority countries are barred entry for 90 days.
The order has drawn protests across the country, with thousands demonstrating at airports where immigrants and refugees were being blocked over the weekend from entering the U.S.
Boyd made it clear that he does not encourage breaking the law or allowing anyone to enter under any circumstances without proper vetting. In fact, he supports vetting and said it is "wise and prudent" to screen immigrants. But this process, he noted, should be done "thoughtfully, humanely and justly" and everyone should be held to the same standards without discrimination.
While it is proper for the government to ensure safety in the U.S., there needs to be compassion as well, the Colorado Springs pastor emphasized.
"God says, 'To them, and to everyone, I'm asking you to show love,'" Boyd wrote.
"We can be both safe and compassionate at the same time," he said. "Our government should … stand watch, while not compromising our promise inscribed on the inside pedestal of Lady Liberty, 'Give me your tired, your poor, your huddled masses yearning to breathe free.'"
The pastor encouraged Christians to start showing compassion to their neighbors. Instead of fearing and judging immigrants and refugees, Christians should approach them and welcome them, Boyd said.
While the pastor suggested engaging neighbors in conversations about where they are from, what their name means, asking about the significance of a woman's headscarf, or asking a Hispanic man how he has such a strong work ethic, one commenter advised against such conversations.
"Humbly, I would like to offer the opinion that complimenting a Hispanic man on his work ethic or pointing out a stranger's hijab and asking her about it seem like fake warmth to me, coming from a superior and removed position as opposed to offering friendship as a neighbor would," a commenter named Libby noted on Boyd's blog. "Looking for similarities is how we reach our neighbors and I've never found that starting a conversation with our differences helps."
Notably, Boyd said engaging in conversations with those who are different from them will help Americans realize how much they have in common with their neighbors.
"We all crave security. We all long for love. We all want to protect our children. We all want to live a life that's truly life," Boyd noted. Focus, he added, "on the soulish things that unite us instead of on the superficialities that keep us apart."