Megachurch Pastor Robert Jeffress: Satan 'Delivered' Islam to Muhammad, Following Islam Will 'Lead You to Hell'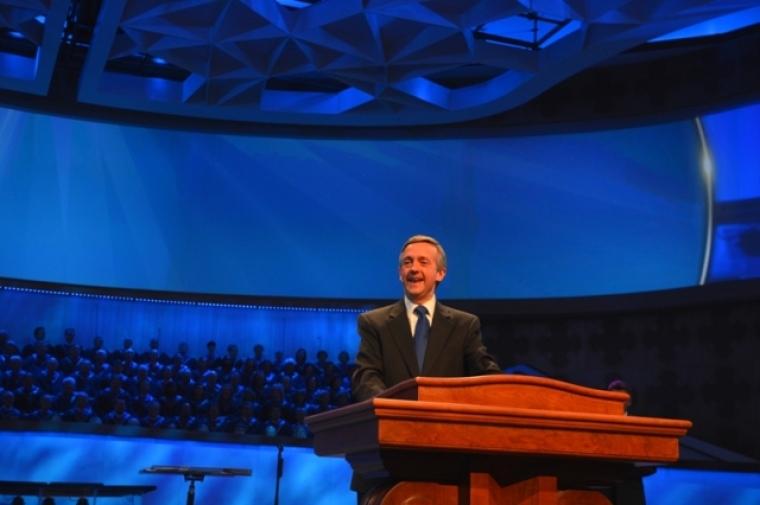 Dallas megachurch pastor Robert Jeffress said Sunday during his "Countdown to the Apocalypse," sermon series that it was Satan who delivered the religion of Islam to the prophet Muhammad and further asserted that following that religion will "lead you to hell."
In his six-week sermon series, Jeffress, who pastors Dallas' 11,000-member First Baptist Church, explains how Jesus told of the rise of radical Islam and that increased Christian persecution around the world would "precede His return to this Earth."
In a Sunday sermon, the 59-year-old attempted to debunk the claim that Muhammad was delivered Islam by an angel and stated that the angel Muhammad saw was really the devil desguised "as an angel of light."
"It was Satan himself who delivered those delusions to those people to lead people by the millions away from God," Jeffress said. "Islam is a false religion that will lead you to hell. It is based on a false book that is based on a fraud. It was founded by a false prophet who was leading people away instead of to the one true God," he said during the May 10 sermon tited: "Christians in the Crosshairs."
Jeffress added that just as the Antichrist will seek to rid the world of Jews and Christians, religious minorities across the world are being killed and persecuted at an alarming rate by Islamic radicals who feel called by their faith to commit such acts.
Terrorist organizations like ISIS, al-Shabaab and Boko Haram are frequently attacking and killing thousands of Christians and other non-Muslims in the name of their jihad.
"Did you know that there were more martyrs in the 20th century than all the other centuries combined together? ... Jesus said, 'These things are going to be like the birth pains of a woman. They will increase in intensity and in frequency,'" Jeffress stated. "Did you know that persecution will escalate and reach its [peak] here in a future period of time that we call tribulation?
"Christians will be slaughtered by the millions for their faith in Jesus Christ. You say, 'Wait a minute, during the tribulation? I thought all Christians were going to be raptured and we were going to get out of here and that there weren't going to be any Christians," Jeffress continued. "It's true, the Church will be raptured before the final seven years of Earth's history, but during that final seven years, many people will come to faith in Christ but they will pay a terrible price to do so."
Jeffress stressed that although the persecution of Christians might be carried out by radical Muslims or governments, the "catalyst" behind it all is the Antichrist.
"The catalyst for this persecution will be the final world dictator that we call Antichrist. He will launch an attack against both the Jews and Christians," Jeffress explained. "He sees them as one, just as radical Islam sees them as one — the people of the Book. So, the Antichrist will see Jews and Christians alike and will announce an attack against them."
Jeffress argued that the Quran is filled with phony stories and includes over 35 commands to kill Christians and Jews and those who stand against the expansion of Islam.
"These terrorists are Islamic terrorists, doing what they're doing in the name of their faith," Jeffress asserted. "You cannot find one single verse in the New Testament that calls for violence against non-believers. Jesus said to love your enemies. Muhammad said to butcher your enemies."
Jeffress stated that the world is not just in danger from radical Islamic terrorist groups but also at risk from a nuclear Iran, a Shiite Muslim nation, which he claimed has ambitious goals of one day blowing Israel off the "face of the Earth."
"That is why it is absolute lunacy for our president and Congress to negotiate a deal on nuclear weapons with Iran when they are intent on destroying Israel, us, and exterminating our nations from the face of the Earth," Jeffress said.