Michael Vick: My Fall From Grace Showed Me 'God Was Real'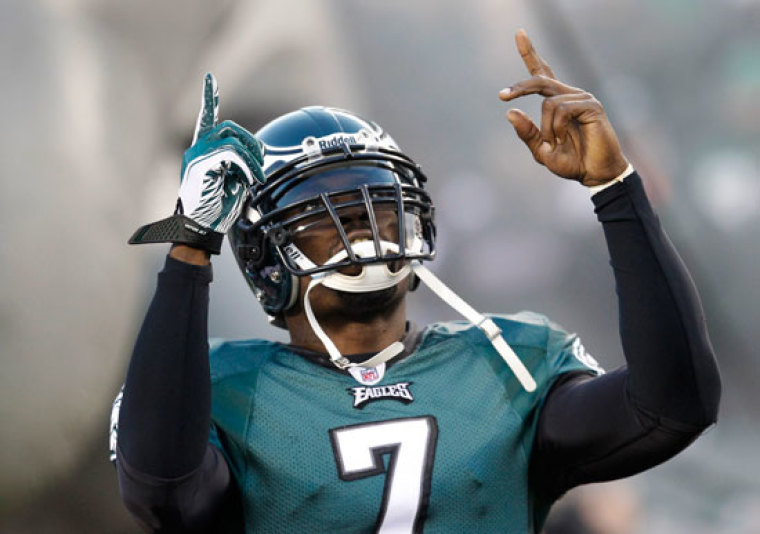 Former NFL star Michael Vick, whose promising career was halted when he spent over a year-and-a-half in federal prison for his involvement in a dogfighting ring, said during a radio interview last week that his fall from grace really showed that "God was real."
Vick, who played six seasons as the quarterback for the Atlanta Falcons and made three Pro-Bowl teams before he was sent to prison in 2007, spoke with Associated Press sports writer Rob Maaddi in an interview for Maadi's radio program, "Faith on the Field," which is was broadcast last Thursday on Philadelphia's AM 610.
Vick, who was raised as a Christian and recalled sleeping with a Bible under his pillow as a kid, explained that he frequently prayed throughout his childhood for God to allow his dreams of going to college and playing professional football to come true. Vick explained that it was after he reached superstar status as the game's most elusive dual-threat quarterback, that his worldview began to change.
"There was a time when I was starting to feel like, 'Ok, I made it. I arrived. That's it.' In all that, you start to think about what is really important. You start to think that money is more important and chasing money is more important and contracts that you have — companies and appearances and staying out late and not working as hard as you can," Vick explained.
"It was basically, pretty much just being, not naive, but comfortable in the position that I was in. Not thinking things could always go in a different direction, whether positive or negative, but mostly negative. I mostly never paid attention to it until it happened."
It happened in the form of a 23-month federal prison sentence for his involvement in the "Bad Newz Kennels" dogfighting ring in which over 70 dogs were seized by authorities at Vick's property in Virginia. Vick's time in prison cost him two seasons during the prime of his football career.
Maaddi asked Vick during the interview if he thought his legal trouble was a message from God: "Michael, I need to humble you right now."
"I knew it was God the entire time. When I was going through everything that I was going through, I just felt for a long time that there was a black cloud over my head, there was nothing that I could do right. I knew the things that I was trying to hide from was finally catching back up with me and it showed me that God was real, that you are not bigger than anybody, not better than anybody," Vick asserted.
"I was blessed and He blessed me. I had plenty of chances to do the right thing and I didn't do it right. It was all about just putting myself in a position where I could see life in a different form. I think it took me 18 months to realize that but was being in a prison cell."
While in jail, Vick said he leaned on Scripture, especially the book of Psalms, during his worst times of sorrow.
"The book of Jeremiah, the book of Job was extremely important in my walk and my understanding. The book of Psalms was very powerful. I leaned on the book of Psalms in my toughest and my most sorrow moments when I felt like I had no fight left. Those were the nights that I read those scriptures and was able to wake up a new man the next day," he explained. "I always seemed to get broken down and have to resort back to the Bible and resort back to reading it as a form of comfort and that comfort came from the man upstairs."
Vick added that while he was in prison, he prayed for a second chance.
Although he was released by the Falcons before he was released from prison, Vick eventually signed and played with the Philadelphia Eagles in the 2009 season. In 2010, he started 12 games for the Eagles and in 2011, he started 13 games for the Eagles. Following his time in prison, Vick played a total of seven more seasons with three different NFL teams.
"It took a long time for me to understand how I needed to live my life. Life is a lesson. You make mistakes and you learn from them. If you don't learn from them, you really don't get second and third opportunities, especially in my profession and for the average citizen it ends up you are in places you don't want to be," Vick said.
"I screwed up one time. If I get another opportunity, which is what I prayed for, then I had to make the most of it and I had to be real about it and be truthful. And I got that second opportunity. So that was my responsibility. The promises that I made to God, I had to fulfill those responsibilities."