Mindy Kaling Shares Inspirational Pieces of Advice in Her Dartmouth Graduation Speech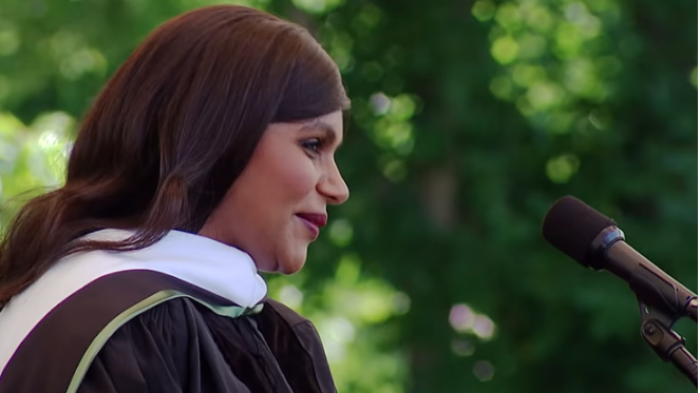 Comedienne Mindy Kaling imparted a lot of funny yet inspirational anecdotes during her return to her alma mater, Dartmouth College, to deliver the commencement speech for the Class of 2018 graduates.
The Emmy-nominated actress, writer, and producer spoke in front of the graduates, school board and faculty, and their family and friends to share what she learned after her own graduation in 2001.
During her commencement speech, the "The Mindy Project" star encouraged the fresh graduates to become their own champions without step on others as posted by the university's website.
The actress also made fun of several things, including the inclusion of "Proficient in Word" in one's resume and the tedious task of answering forms. She also told the graduates that it is not really necessary to order more than one pancake despite what the cartoons had been telling the audience for a long time.
But on a more serious note, the actress shared an important lesson that she learned when she took home her first child, Katherine Kaling, for the first time in December.
She said that she remembered what she always see on TV and movies that new moms will be surrounded by their mothers and spouses when they get home. "And I looked around, and I had neither. And for a moment, it was kind of scary. Like, 'Can I do this by myself?'" the actress stated. "But then, that feeling went away, because the reality is, I'm not doing it by myself. I'm surrounded by family and friends who love and support me," she added.
This is one of the rare times that she spoke about being a single parent publicly. Until now, she has yet to reveal the identity of her baby daddy.
She also told the audience that they should never be afraid to do things even if it is not in the usual order of events. "I didn't think I'd have a child before I got married, but hey, it turned out that way, and I wouldn't change a thing. I didn't think I'd have dessert before breakfast today, but hey, it turned out that way and I wouldn't change a thing," she also said as mentioned by E! News.
At one point in her speech, she also addressed the female attendees that as women, they need to make extra effort to support each other since they must eradicate the system where there are limited opportunities for the gender.
While she also mentioned in her speech that it is ideal to do a checklist since ticking one item after another can be very motivating, she would still encourage them to let it go sometimes and allow life to happen even if it is not according to plan.
She also reminded them that she did not exactly think that she will be living the life that she has today during her own graduation. "I was sitting in the chair you are literally sitting in right now and I just whispered, "Why not me?" And I kept whispering it for seventeen years; and here I am, someone that this school deemed worthy enough to speak to you at your commencement," the 38-year-old actress who earned her Bachelor's Degree in Playwriting also said as she ends her speech.