Ministry Witnesses 'Amazing' Transformation in Haitians Turning to Christ
Project Manager Talks With CP About Ministering in Caribbean Nation for 25 Years
Ministry Witnesses 'Amazing' Transformation in Haitians Turning to Christ
Of the many missionary organizations and relief teams who have come and gone into Haiti over the past three decades, one stands out in particular – because its services has made it possible for all other groups to fly into the Caribbean nation. Mission Aviation Fellowship (MAF) celebrated last week 25 years of work in Haiti, and Mark Williams, a project manager who has served the organization for almost the entire ride, reflected on how Christianity has grown in the hearts and minds of Haitians during this time.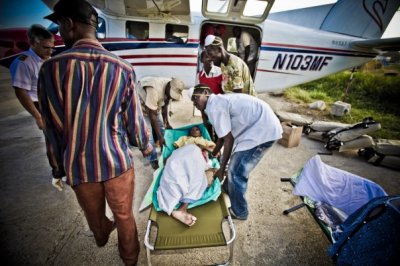 MAF held its ceremony last Tuesday, Feb. 29, at the MAF aircraft hangar at the Port-au-Prince Airport. It was attended by hundreds of missionaries and aviation officials, who had much to be thankful for to the aviation company who has helped provide mission, humanitarian, and government organizations the chance to reach remote locations throughout the world.
MAF has served the missionary community and the people of Haiti since 1986, completing 25 years of accident-free flying. It has reached people in remote and isolated areas of Haiti, and has assisted with church planting and discipleship to medical, educational, community development, and crisis relief programs.
In 2011, MAF Haiti completed a total of 1,539 flight hours that delivered 437,070 pounds of cargo and saved 4,322 days of travel for 6,330 passengers, its 2012 report revealed.
"We depend on MAF for several mission-critical functions, and without them, we could not live here…Our survival and health depends on their survival and health," testifies Kent Rasmussen from Wycliffe Bible Translators, the world's biggest international Bible translating company.
Once a nation that largely practiced voodoo beliefs, today there is a fusion of beliefs in Haiti – 80 percent of people profess to be Catholic, and another 16 percent are Protestant, yet roughly half of the population still practices Voodoo.
Mark Williams, however, who has been an integral part of MAF's response to disasters, such as the major 2010 earthquake and subsequent cholera epidemic, and has led a Bible study youth group for 10 years, shared with The Christian Post that in his experience, Protestantism has been on the rise in the past few years, due to the increasing number of Protestant ministries that have been coming to spread the Gospel in Haiti. Voodoo beliefs are also being abandoned.
"Haiti is 700 miles from Florida – it is easy access, and there are a lot of work teams. The per-capita missionaries in the country is amazing. Many short term-missions and many church plants grow quickly. It is easier to get to Haiti than it is to get to Africa. That facilitates missionaries from the Unites States to come over and have a large input and influence in the country. The bulk of our flight ministries is facilitating many of these missionaries that fly in. They come in all facets – relief workers, medical personnel, churches, work teams involved in community development efforts, and others," Williams explained.
He described the wide-spread conversion of Haitians from voodoo to Christianity as a "amazing."
"It is very interesting when you think of the culture, the voodoo mindset of Haiti, which comes from West Africa. 'Voodoo' means 'spirit' and is an animistic religion, which was brought over from Africa to Haiti through the slaves. What is interesting is that animism was also practiced by the Native Americans, who also had witch doctors who could cast or remove curses from people.
"They had the same basic idea – and the premise is that there is a universe of spirits, and in Haiti they are called the Loa – and those spirits inhabit trees, rocks, everything. They control the weather – your health, luck, everything, and so that makes you a pawn of the universe. You have a fatalistic mindset, because in the voodoo belief, you are always appeasing. When you are sick, or having bad luck, you are asking yourself 'What spirit is mad at me?' And so you go to the witch doctor to find out which spirit that is, and what you need to do – what kind of ceremony and how much it is going to cost, to appease this spirit," Williams shared.
"It is a fatalistic mindset where nature has dominion over man – that is a 180 degree turn from Christianity, where man has been given dominion over nature – not so that we can abuse it, but we have been given positional dominion over nature.
"There mindset is this: 'Everything is done to me, everything happens to me. It's really not my fault, as I am just trying to survive.'"
The program manager shared one story of how this fatalistic view affects people in their everyday lives:
"There was this one instance of a guy driving a truck with a bunch of passengers on the winding roads of the mountains, and he was driving too fast. It tipped over, and injured a lot of people. But he slept really well that night – because he said 'It's not my fault. A snake came out of nowhere and made the truck fall over.' You see, it's never their fault, because everything happens to them.
"So when they come to Christ it is an incredible thing, because their entire mindset changes. In the biblical contest, you internalize your sin. You say 'I am a sinner, and I need redemption' – for which you turn to Jesus Christ."
Williams revealed that the greatest benefit Haitians felt when they turned to Christianity was the liberation from fears associated with their previous voodoo beliefs.
"When people come to understanding that they need to come to Jesus Christ to release them from their fear, from the Voodoo curse, from the fear of other people casting spells and going after them – that's what animism is, it's really a fearful style of religion. When you convert, you experience the freedom of redemption.
"From all the people I have talked to that have left their voodoo beliefs behind – the common theme is that they say they are not afraid anymore," he noted.
To highlight his point, he quoted a passage from the Bible, Acts 19 (NIV):
17 When this became known to the Jews and Greeks living in Ephesus, they were all seized with fear, and the name of the Lord Jesus was held in high honor. 18 Many of those who believed now came and openly confessed what they had done. 19 A number who had practiced sorcery brought their scrolls together and burned them publicly. When they calculated the value of the scrolls, the total came to fifty thousand drachmas.
"This is what happens when witch doctors convert – they take their fetishes, which are worth hundreds of dollars, which is a lot of money for a Haitian. But they give all of that up – their money, their status in society as a figure to be feared – they burn it all in a public display which they do with a transformed heart. So it is an amazing thing," Williams stated.
"I studied all this in my 25 years in Haiti, because in order to minister, you have to learn the culture. You have to learn why it is they do the things they do. How do they look at the world – what is their perspective of reality? It may not be true – but it is their reality," he concluded.
Besides the work it does in Haiti, MAF also provides communications and learning technologies to support the work of hundreds of Christian, mission and humanitarian organizations throughout Africa, Asia, Eurasia and Latin America.