Herman Cain Should Resign From Church Role if Sex Claims Prove True, Says Martin Bashir (VIDEO)
Herman Cain Should Resign From Church Role if Sex Claims Prove True, Says Martin Bashir (VIDEO)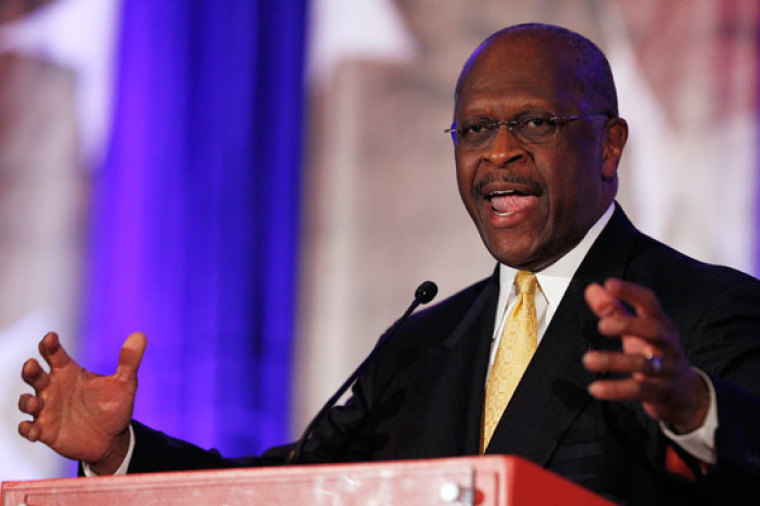 MSNBC Host Martin Bashir, who has been vocal about the espoused Christian faith of politicians vying for the presidency in 2012, has called on Republican presidential hopeful Herman Cain to not only call it quits with his campaign, but to also resign from his position at the Atlanta church he attends, if allegations of an extra-marital affair prove to be true.
Sharing the Friday segment of "Clear the Air" on his Facebook page with the title "Bashir: Hypocrites can lie in the pew but should never lead from the pulpit," the MSNBC host pondered if Cain, while deciding if he should withdraw his campaign for the presidency, should not also "step away from his position within the church given the recent allegations against him of an extramarital affair."
Ginger White, a 45-year-old Atlanta, Ga., resident claims she and Cain had an affair for 13 years. After the allegation was made public, Cain said he was "reassessing" his campaign. The former Godfather's Pizza CEO also revealed that his wife of 43 years, Gloria Cain, had no knowledge of his friendship with White. Cain has reportedly previously been accused by four other women of sexual harassment.
Herman Cain's Wife Did Not Know about Ginger White
"[Mrs. Cain] had no idea that her husband even knew Ginger White, let alone gave her money and allegedly slept with her. But then this campaign has been full of surprises for Mrs. Cain, who, by the way, has acted with complete dignity throughout these tawdry proceedings," Bashir continues, according to an MSNBC transcript.
He adds, "But, if Mr. Cain is to drop out of the Republican race, isn't it time he also considered resigning his position as an associate minister at Antioch Baptist Church in Atlanta?"
MSNBC contacted Antioch Baptist Church, but reportedly no one would "deny or confirm" Cain's position at the church.
"But if Herman Cain proves to be lying and drops out of the race, doesn't that also disqualify him from holding a position in the local church?" Bashir wondered.
In calling on Cain to be disqualified from holding a position at Antioch Baptist Church, Bashir, a Christian himself, could have been referring to the Bible's teaching regarding the standard for individuals holding positions of leadership in the church. One example of a passage referred to on this topic is found in 1 Timothy 3, which reads in verse two: "Now the overseer must be above reproach, the husband of but one wife, temperate, self-controlled, respectable..."
The MSNBC journalist noted that Cain's church is a part of the National Baptist Convention of the U.S., Inc., and referred to the organization's Statement of Faith, which reads:
"We believe that the Scriptures teach that the blessings of salvation are made free to all by the Gospel; that it is the immediate duty of all to accept them by cordial, penitent and obedient faith; and that nothing prevents the salvation of the greatest sinner on earth, but his own determined depravity and voluntary rejection of the Gospel; which rejection involves him in an aggravated condemnation."
"If Mr. Cain withdraws from politics, then he must surely resign his position in the church," Bashir concluded, "because one thing is for certain. Hypocrites can lie in the pew, but they should never lead."
Those who commented on Bashir's "Clear the Air" segment were mixed over his remarks on Cain, some vowing to still support the Atlanta businessman and Baptist minister despite the allegations.
"I'm still supporting Cain. Frankly, if Donald Trump can toy with the idea of the Presidency and be up in the polls (when he was running), and he's got a marital history that would put Gingrich, Clinton and Cain to shame -- then Cain's problems are insignificant," wrote Silvie Rivera on Bashir's Facebook page.
Others appreciated Bashir's expression of his viewpoints.
"You tell it like it is, and do so with class," wrote Bob Bickel Martin.
Bashir, who interviewed Rob Bell for his controversial book on hell, Love Wins: A Book About Heaven, Hell, and the Fate of Every Person Who Ever Lived in March, is a "committed Christian" who attends Tim Keller's Redeemer Presbyterian Church in New York City.
In a Sept. 15 "Clear the Air" segment, Bashir, who joined MSNBC in 2010, also questioned the presidential candidates' Christian faiths and their "cheap" show of Christianity.
On Friday, Cain told supporters that he would be making a "announcement" regarding the next steps in his campaign Saturday in Atlanta, reportedly after meeting with his wife. Will the beleaguered businessman will announce the suspension of his campaign?