Muslims Are Asking Priests for Exorcisms in Battle Against the Devil, Witchcraft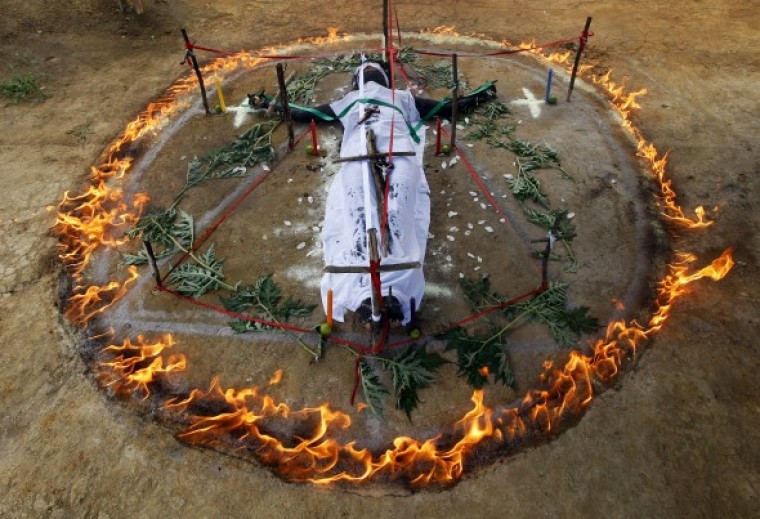 Catholic priests who offer exorcisms in what they say is a global battle against the devil, witchcraft, and in some instances child sacrifice have reported that even Muslims are coming to them seeking help.
Catholic news source Crux reported Wednesday that the 13th annual course for exorcists is being held in Rome this week, which has revealed some interesting developments.
Professor Giuseppe Ferrari, who heads the "Group for Socio-Religious Research and Information" as part of the gathering, said that sections of the course will look at the dangers of witchcraft in Africa.
"We will deal with the theme of the kidnapping and murder of children for ritual sacrifice, linked to witchcraft, in order to obtain favors for clients," Ferrari said, calling it a "cruel and inhuman practice.
In a Q&A follow-up, an Indian priest serving in the Islamic-majority city Dubai in the United Arab Emirates, said that "many Muslims come to our place, even highly educated ones."
"They say, 'Father, someone has done black magic on me, can you pray over me and remove the devil?'" shared the priest, who wasn't named.
He asked 89-year-old Cardinal Ernest Simoni how exorcists should respond to such requests from Muslims, pointing out that many of the people coming to them are from Lebanon.
Simoni, an Albanian who faced torture and prison by Communist authorities, answered that exorcism should be offered to everyone, regardless of their religious background.
"The grace of the Holy Spirit will redeem us all," he said.
Organizers of the course in Rome have sought to clarify that it should not be described as a "school for exorcists," as in Catholic tradition only a bishop has the authority to commission a priest to perform the rite.
Still, the course points out that while people in the Western world might only be aware of magic and witchcraft as generally benign concepts connected to New Age spirituality, in the global South there are real battles with what people consider to be demonic, spiritual forces.
"It is important for the Church to understand the fears of the people, and not to attribute them to superstition," Michael Katola, a lecturer in pastoral theology, said in 2007.
"Witchcraft is a reality; it is not a superstition. Many communities in Kenya know these powers exist," he added. "If we don't believe in the existence of witchcraft as Satanism, then we cannot deal with it."
Father Anthony Barratt, a British priest who is based in Albany, New York, said at the Rome conference that demand for exorcisms is growing around the world.
"I think it is partly due to the internet, which makes it (Satanism) so accessible. Films and television programs are also a factor. There's a fascination," Baratt said.
Simoni meanwhile said that God has made it possible for priests to help in the spiritual battle against demonic forces even over the telephone.
"There are priests who carry out exorcisms on their mobile phones. That's possible thanks to Jesus," he added.