'My Husband Told Them We Were Christians and They Shot Him in the Head and Chest;' 48 Kenyans Killed in Terrorist Attacks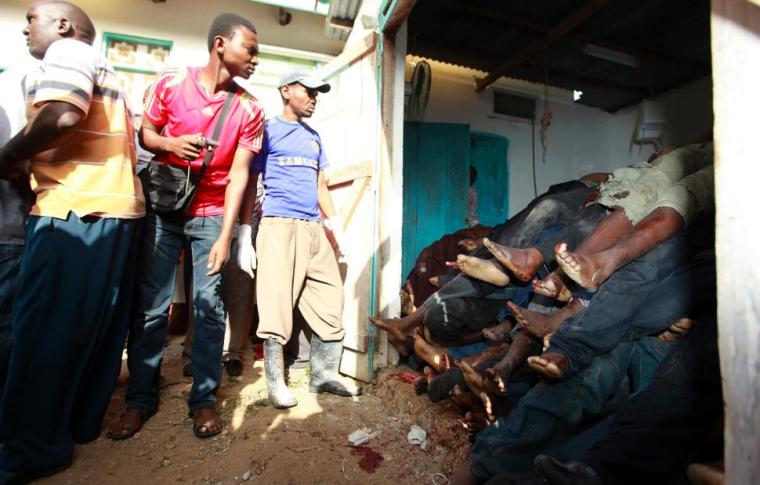 It was a dark and bloody Sunday for residents of the coastal town of Mpeketoni in Kenya after witnesses say a Somali al-Qaeda-linked extremist group called Al-Shabab left 48 people dead. The deaths were the result of an hours-long door-to-door assault on the community where those who weren't Muslim or spoke Somali were killed.
The attack began on Sunday night as the community watched World Cup matches on TV and continued until early Monday, according to the Associated Press.
When it was over, Kenyan troops who did little to stop the assault and the residents of Mpeketoni awoke to heartbreaking carnage littered across dirt streets and still-smoldering vehicles and buildings that had been set ablaze.
"They came to our house at around 8 p.m. and asked us in Swahili whether we were Muslims. My husband told them we were Christians and they shot him in the head and chest," a mourning Anne Gathigi told AP.
Mpeketoni resident John Waweru said his two brothers were killed because they didn't speak Somali.
"My brothers who stay next door to me were killed as I watched. I was peeping from my window and I clearly heard them speak to my brothers in Somali and it seems since my brothers did not meet their expectations, they sprayed them with bullets and moved on," Waweru said.
Kenya Interior Minister Joseph Ole Lenku told AP that the attacking extremists took cover in the nearby Boni Forest after a "fierce exchange of fire" with security forces. He also confirmed that 20 vehicles were set ablaze.
Al-Shabab has since taken responsibility for the attack, claiming they did it because of Kenya's "brutal oppression of Muslims in Kenya," citing the killings of Muslim scholars in Mombasa. The attacks, they warned Kenyan officials, would continue "as you continue to invade our lands and oppress innocent Muslims."