'People of Faith' Are Hypocrites for Not Opposing Border Policy, Nancy Pelosi Says as GOP Lawmakers Slam It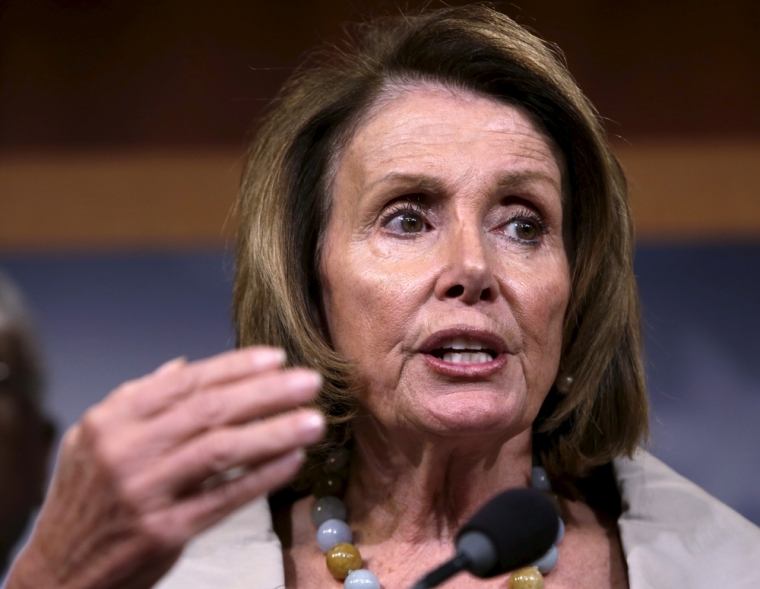 House Democratic Leader and mother of five Nancy Pelosi blasted Attorney General Jeff Sessions and "all people of faith in our country" as hypocrites last Friday for not demanding more compassion in the Trump administration's "zero tolerance" policy separating unauthorized immigrant children from their families.
Many Christian leaders and some Republican politicians, however, have also pushed back against the separation of children from families at the border.
"The very hypocrisy of the Attorney General to quote the Bible, the hypocrisy of all people of faith in our country not to clamor for what the administration is doing to end — whether it's to deprive the dreamers of the respect they deserve or whether it's taking babies away from their mothers and fathers," Pelosi said Friday outside the Capitol.
"For this administration to pose as people of faith and pose as people who care about family and children is of a height of hypocrisy that knows no bounds," she said.
Pelosi's comments came Friday after President Donald Trump announced earlier that day that a Republican compromise bill on immigration brokered by House Speaker Paul Ryan, and Trump's advisers wasn't tough enough for the president to sign.
Pelosi, on the other hand, opposed the same bill because she believes it is too conservative. 
"The legislation ... is totally unworthy of America," Pelosi said. "It's a bad bill to begin with. So when the President says he's not going to sign it, it just goes to show you how low his standards are."
Ryan and other GOP lawmakers said the compromise bill which is expected to be taken up by the House this week, was an opportunity to seal a deal that would allow some DACA recipients legal status with a path toward citizenship, tougher border security, and end a policy of separating illegal immigrant children from their parents at the border – a policy Sessions and White House Press Secretary Sarah Huckabee Sanders have used the Bible to defend.
"I would cite you to the Apostle Paul and his clear and wise command in Romans 13, to obey the laws of the government because God has ordained the government for his purposes," Sessions said during a speech to law enforcement officers in Fort Wayne, Indiana. "Orderly and lawful processes are good in themselves. Consistent and fair application of the law is in itself a good and moral thing, and that protects the weak and protects the lawful."
The Associated Press cited Department of Homeland Security figures Friday that nearly 2,000 children have been separated from their families at the U.S. border over a six-week period during a crackdown on illegal entries. Since then, a growing number of Republicans have been speaking out against the policy that led to their separation.
Republican Sen. Ben Sasse from Nebraska slammed, the policy reportedly crafted by White House senior policy adviser Stephen Miller as a "new, discretionary choice" that is "wicked" and "harmful to kids" in a statement on Monday.
"The administration's decision to separate families is a new, discretionary choice. Anyone saying that their hands are tied or that the only conceivable way to fix the problem of catch-and-release is to rip families apart is flat wrong. There are other options available to them. The other options are all messy (given that some overly prescriptive judges have limited their administrative options), but there are ways to address this that are less bad than the policy of family separation they've chosen," Sasse wrote.
While admitting the America's immigration system is broken, he insisted that separating families at the border isn't going to fix it.
"We don't have any coherent policy for dealing with kids who were brought here as minors but who have never known any home but the U.S. And more broadly, we have no long-term agreement about what levels of legal immigration we should want, or what kinds of workers we should prioritize. The Congress clearly bears much of the blame," Sasse said.
"But neither the horrors of family separation nor the stupidity of catch-and-release should be about leverage for a broader debate. We should start by tackling the specific problem before us in the narrowest way possible. The President should immediately end this family separation policy," he added.
In a tweet Monday Former Florida Gov. Jeb Bush slammed President Donald Trump for using children as a "negotiating tool."
"Children shouldn't be used as a negotiating tool. @realDonaldTrump should end this heartless policy and Congress should get an immigration deal done that provides for asylum reform, border security and a path to citizenship for Dreamers," he said.
Jeb Bush's sister-in-law, former First Lady Laura Bush, also strongly rebuked the policy in  an op-ed for the Washington Post Sunday.
"I live in a border state. I appreciate the need to enforce and protect our international boundaries, but this zero-tolerance policy is cruel. It is immoral. And it breaks my heart," she wrote. "Our government should not be in the business of warehousing children in converted box stores or making plans to place them in tent cities in the desert outside of El Paso. These images are eerily reminiscent of the Japanese American internment camps of World War II, now considered to have been one of the most shameful episodes in U.S. history."
Republican Sen. Susan Collins also slammed the policy as "traumatizing" for children and "contrary to our values in this country" during an appearance on CBS' "Face the Nation."
"What the administration has decided to do is to separate children from their parents to try to send a message that if you cross the border with children, your children are going to be ripped away from you. That's traumatizing to the children who are innocent victims, and it is contrary to our values in this country," Collins said.
"We know from years of experience that we need to fix our immigration laws and that using children is not the answer," she added.
Reacting to a Washington Post report that President Trump is using the controversial border policy to force a deal on border security, senior White House adviser Kellyanne Conway said on NBC's "Meet the Press" Sunday that it was far from the truth.
"I certainly don't want anybody to use these kids as leverage," Conway said. "As a mother, as a Catholic, as somebody who has a conscience ... I will tell you that nobody likes this policy."
She insisted however that the government has a duty to uphold law and order.
"Nobody likes seeing babies ripped from their mothers' arms, from their mothers' wombs, frankly, but we have to make sure that DHS' laws are understood through the soundbite culture that we live in," Conway said, noting that "some adults are using children to gain access to the border."
She argued that if Democrats and Republicans are serious about fixing the immigration problem they would come together to find a solution.
"If the Democrats are serious, and if a lot of Republicans are serious, they'll come together. They won't just talk about just this week, just the Dreamers, or just the wall, or just catch and release. It's all of the above," Conway said.