Nashville Pastors, Police Help Trade Guns for Grocery Gift Cards
The Metro Police Department in Nashville, Tenn., working in conjunction with local pastors and a Kroger grocery store, helped exchange 90 guns for 90 Kroger gift cards on Saturday in a cooperative effort to keep dangerous firearms off the streets.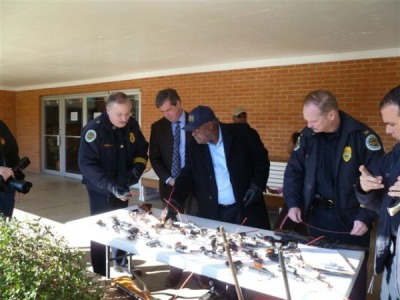 "This program was worthwhile if we prevented just one gun from falling into the wrong hands," said police chief Steve Anderson. "I believe we did that today thanks to our great partnership with area ministers and Kroger."
The Gift Cards for Guns Initiative invited people from the local community to turn in their unsafe, unwanted or unused guns in exchange for a $25 Kroger grocery store gift card, which was donated by the grocery store. The police took a "no questions asked" approach to the event, so that anyone could turn in a firearm and receive a gift card and without fear of being interrogated.
An officer from the department's training academy was on hand to receive the guns and to safely secure them, and The Tennessean reports that 10 other officers, some on foot and others on horseback, were also in attendance.
The event was held at Greater Faith Missionary Baptist Church in Bordeaux, a church led by police department volunteer chaplain Michael Joyner. In just four hours, the police department collected 73 pistols, nine shotguns (one of them which was "sawed-off") and eight rifles that were unsafe, unwanted or simply unused by members of the area community.
"This is all about making our community safer and lessening the chances of gun-related heartbreaking tragedies," Joyner said.
People Traded Their Guns for Gift cards
Don Aaron, public affairs manager for the police department, told The Christian Post on Monday that although they did not ask those who turned in their guns to explain why they did so, some individuals offered an explanation anyway.
One man who surrendered a revolver said that, to his knowledge, the gun had only been fired once, when a family member committed suicide. Another man turned in multiple guns, saying that his wife read about Gift Cards for Guns and simply wanted the weapons out of the house.
Now that the guns have been handed over to police, they will be checked to see if any of them have been reported stolen. Stolen guns will be returned to their owners, if possible. Others will be retained by the police department, some of which will be added to a "gun library" at the city's new crime lab when it opens.
Aaron says the gun exchange program is a good example of community organizations cooperating to make the city a safer place.
"I think that an event like this signals to the community that the churches aren't in it by themselves, the police department isn't in it by itself, that there can be meaningful, lasting partnerships that work diligently, not only in an event like this but throughout the year, to enhance the safety of the community," he said.
In 2009, local pastors promoted a similar event with the help of UniverSoul Circus, collecting 80 guns and passing out free circus tickets instead of gift cards.
The Tennessean reports that Joyner, Pastor George Price of Tucker Road Church of God, and Pastor William Harris of Galilee Baptist Church, came up with this year's idea during a brainstorming session on how they could help prevent crime in the area. All three of the men are chaplains for the police department.
The department utilizes mostly volunteer clergy, thought it has one minister who is a police officer and coordinates the volunteer effort. The volunteers have received special training and are often present at the scene of major incidents, including shootings or traffic fatalities, in case they are needed.
"Our volunteer chaplain program has been around for many years," said Aaron, "and is a significant asset to both the police department and, I think, the clergy."