Nat'l Televangelist Tells Viewers to Obey God, Send Him $273 'Recovery Seed' Donation
Numbers 2, 7, 3 Are to His $1.38 Million High-Rise Condo in Charlotte, N.C.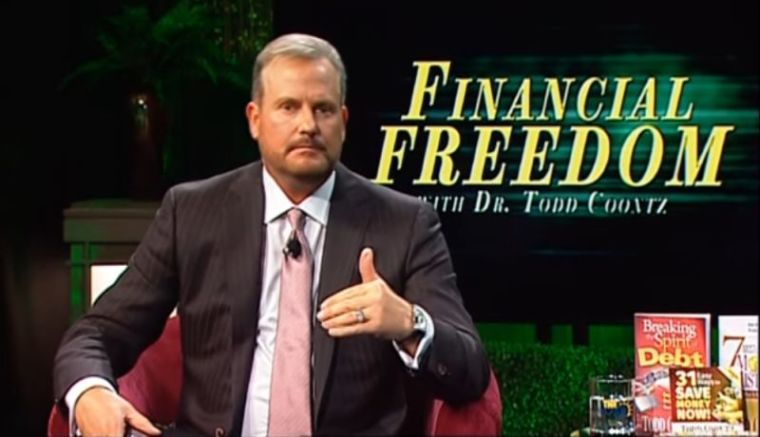 Todd Coontz, the founder of RockWealth International Ministries, a nonprofit organization, is coming under fire for telling viewers that if they act obediently toward God and send him a minimum of $273 for a "recovery seed" donation, God will reward them with a "supernatural change in 90 days."
Coontz told viewers: "Several months ago, God gave me the single greatest miracle of my lifetime in one day, and the numbers two, seven and three were involved."
Ironically, the $1.38 million Rosewood high-rise luxury condo where Coontz lives, was purchased in May 2012 by the RockWealth International Church, according to Charlotte's WSOC-TV.
Part of Coontz's ministry website claims that donors' dollars will go toward overseas missions to feed the hungry and support orphaned children, but his Twitter account only shows several pictures of him working-out in opulent locales in San Diego and Beverly Hills, Calif., where he tweeted a picture of Rodeo Drive from his hotel room.
On March 2, Coontz tweeted a picture of a FexEx truck and told his followers: "My financial life changed in Honolulu, Hawaii! Sowing an Uncommon Seed created my FedEx Testimony of monthly checks!"
Many Christians believe that Coontz, and others like him, are spreading a false doctrine, and one that preys on the poor, while those who teach the prosperity gospel reap the rewards of their evil deeds.
"They're telling lies in the name of God," said Ole Anthony, the president and one of the founders of the Trinity Foundation, a nonprofit foundation that monitors and investigates religious fraud.
According to Anthony, Coontz is "just one of many who are scheming to make themselves rich."
Coontz, who's often a featured guest on prosperity gospel pastor Benny Hinn's program, told viewers earlier this year on Hinn's show that God sent him "seven prophetic promises for 2013." And one promise is that he's going to receive a "triple favor anointing," and if viewers also want to receive God's triple favor anointing, they must "sew a seed" by sending a donation of $300.
On his ministry's website, Coontz is also asking people to send him a $1,000 donation to receive a "triple favor" blessing from God.
"That's just a damnable lie," said Tom Currie, the dean of Union Presbyterian Seminary in Charlotte, N.C., during an interview with WSOC-TV. "I think that what he's doing is shameful, and I feel sad for him and for the people who give money to him."
Currie continued: "When I see people using the gospel of Jesus Christ to get money out of poor people for the own ends – there's a special place in hell reserved for such folks. And they are accountable, one day."
There are warning signs that Christians can watch out for that reveal if a televangelist or pastor is appealing for donations for their own personal gain. Anthony suggests looking at the example of the first century church, and if a pastor comes to you asking for money, one should "shun him," because "he's a false apostle."
Anthony told the CP there's no example in scripture that shows that one can receive healing or financial prosperity by giving money to a ministry or preacher.
"This is the most ancient heresy in the world," he said. "In the first century, evangelists lived as the poorest of the poor, not the richest of the rich. But now, they're just a blip on the television screen."
Anthony believes the prosperity gospel is becoming more pervasive in our culture because of the "spiritual infantilism of the American public and the great financial need of the world around us."
He explained that when people who donate hundreds or thousands of dollars don't receive the financial reward they were promised, the prosperity gospel evangelists "tell people it's their fault." And, if they are suffering or don't have money, they are living out of favor with God.
"It's heresy of the worst order;" Anthony said.
---