NBA Trade Rumors for 2016-17 NBA Season: Westbrook to Knicks, Clarkson to 76ers, Parker to Cavaliers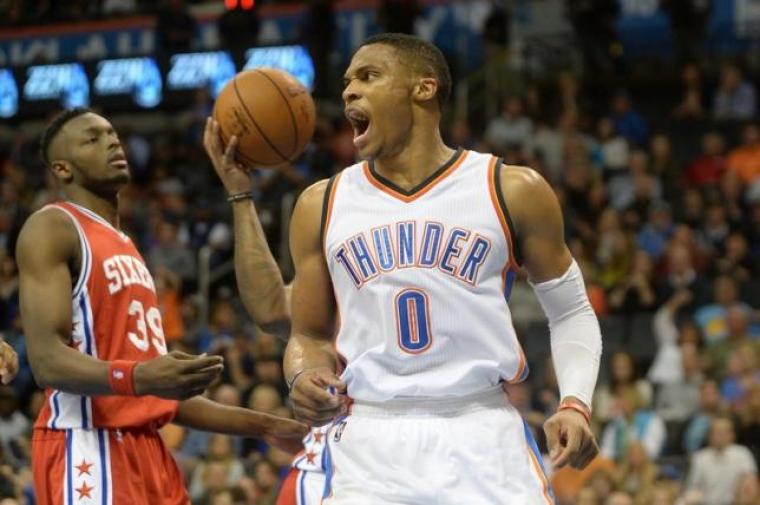 The number of trade rumors is slowly declining as the NBA 2016-17 regular season draws near, and teams have, more or less, settled into their current rosters, evaluating the future of the team, but at the same time preparing for practice camp. Here are some of the latest trade rumors for 2016- 17 NBA Season.
1. Russell Westbrook to New York Knicks
Inquisitr reports a trade rumor involving three players between the New York Knicks and the Oklahoma City Thunder. In particular, it is speculated that Derrick Rose and Kristaps Porzingis will be traded to the Knicks in exchange for superstar point guard Russell Westbrook.
This stellar, conference-shaking trade is allowed according to ESPN's trading machine. For this trade to push through, if both parties are interested, they will have to wait until December 15, since Westbrook extended his contract, which stands at $85 million for 3 years.
Westbrook is the more established, better player among the three. So the New York Knicks will know what they're getting from him. He will be an all-star outright, and will immediately make a positive impact on the Knicks.
When it comes to Rose, however, it remains to be seen whether he will not be injury-laden as he was far too many times throughout his career. Porzingis had a stellar rookie year, and we have yet to find out if he will continue to improve or reach his peak earlier than desired.
Westbrook has had a stellar 2015-16 NBA Season. In fact, he was one of the top contenders for the season MVP award, which eventually went to Stephen Curry for his second straight MVP year.
Westbrook averaged 23.5 points, 7.8 rebounds, 2.0 steals and 10.4 assists per game last season.
2. Jordan Clarkson to the Philadelphia 76ers
A recent rumor reported by Yibada suggested the Philadelphia 76ers is willing to trade Jahlil Okafor to the Los Angeles Lakers, and in return, they will have Jordan Clarkson.
The Los Angeles Lakers had the worst 3-year stretch in franchise history. At the same time, this has caused the team to get top picks on draft night, the latest being number 2 overall Brandon Ingram. With so much young talent in its roster, the fans may now demand more from their team in terms of getting wins and even making it to the playoffs.
If the Sixers are willing to trade one of their talented big men to the Lakers, particularly Jahlil Okafor, the Lakers will get a big man who has been touted as a franchise player; and he will definitely make an instant impact of the team.
While the Lakers acquired Timofey Mozgov on a hefty contract, he may not be the complete center the team is looking for. Mozgov is currently playing for Russia at the Eurobasket qualifiers, where he is having a decent run to help make their team get an undefeated 4-0 record.
3. Tony Parker to the Cleveland Cavaliers
Ecumenical News reports one of the most surprising rumors so far in the NBA off-season; Tony Parker joining the Cleveland Cavaliers.
For argument's sake, some motivations for Parker to leave San Antonio, where he played his entire 15-year NBA career on, are: Tim Duncan's retirement, frustration over not winning the NBA Championship these past few seasons, and a desire to play alongside LeBron James to win another championship.
If, in the narrowest of odds, Parker decides to leave San Antonio for the Cavaliers, a trade involving him and the Cavs top point guard, Kyrie Irving, seem the only logical exchange.
For now, though, both point guards are happy with where they are now. But anything can happen in the future. Parker averaged 11.9 points, 2.4 rebounds and 5.3 assists per game last season.