New Japan Island: Volcano Eruption Creates New Island (VIDEO, PHOTO)
A new Japan island has been created by an undersea volcanic eruption this week, with dramatic video footage of the volcano erupting going viral on the Internet on Thursday. However, Japanese officials have confirmed that the country will wait a see if the new island stabilizes and remains permanent before rushing to name it.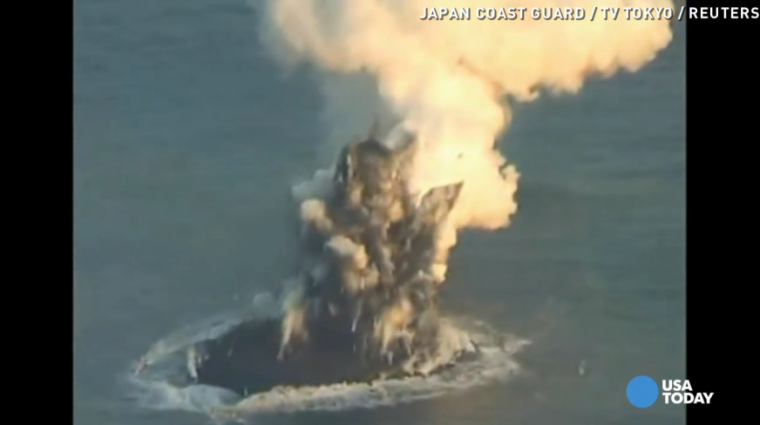 The island was formed following a huge explosion of rocks and smoke, with the fumes reaching nearly half a mile into the air.
The new land mass currently is around 660 feet in diameter and is located near Nishinoshima, an uninhabited island 620 miles south of Tokyo, according to The Associated Press.
The eruption was first identified by Japanese navy personnel on Wednesday morning. Oftentimes new land masses like this, created from volcanic eruptions below the sea surface, can quickly form but as quickly disappear and slide into the waters. It is for that reason that Japanese officials are cautious about naming the new island at this stage.
After navy personnel spotted the eruption, coast guard officials verified the presence of the volcanic island, and issued a warning to nearby ships.
A Coast Guard release stated: "Smoke is still rising from the volcanic island, and we issued a navigation warning to say that this island has emerged with ash falling in the area."
The region is in fact part of the Pacific's famous Ring of Fire, although there has not been known volcanic activity in the immediate area for around four decades.
A government spokesperson has said, "This has happened before and in some cases the islands disappeared. If it becomes an island, our country's territorial waters will expand," according to Kyodo News.
Here is a video of a news report into the new island and volcanic eruption: