New Jersey Megachurch Opens New Site on Montclair State University Campus

A New Jersey-based megachurch will soon have a presence on the Montclair State University campus, expanding its decades-old ministry in the region.
Jacksonville Chapel, a church founded in Lincoln Park in 1956, began holding weekly worship services at a rented space at Montclair State University in April.
In comments emailed to The Christian Post, Jacksonville Chapel's Senior Pastor Dave Gustavsen explained that part of the church's ministry at the university will involve coordinating with Christian groups that are already on campus. 
"Our campus will launch officially on Sunday, April 23," Gustavsen said. "[We are] building a core group of volunteers who want to be part of Montclair campus, and seeking opportunities to serve the community."
Jacksonville Chapel will hold worship every Sunday in a rented room on the seventh floor of the University Conference Center. Gustavsen also told CP that worship is just one of many services the new campus location will offer.
"We will be available to anyone who wants to talk or process through what they may be experiencing in life through 1-2-1 meetings, or simply just grabbing coffee. We hope to offer an environment where all people can explore and express their faith," he added.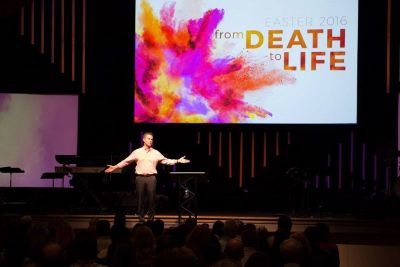 "College students, in particular, are often passionate to contribute to the peace and justice of the world, and we will offer opportunities for people to express their faith through meaningful service, whether they are officially part of our church or not."
News of the pending arrival of Jacksonville Chapel to the university has caught the attention of the school newspaper, the Montclarion.
Dorothy Rogers, chair of the University's Department of Religion, explained to the Montclarion that she was optimistic about the chapel's future presence on-campus.
"An organization like Jacksonville [Chapel] might benefit students who share an evangelical understanding of their Christian faith," said Rogers.
"It's good for students to encounter other beliefs and ways of life so they can exchange views with each other as they prepare for life after [Montclair State]. Inter-religious discourse can enrich our experiences and understandings of each other."
CP also reached out to a spokesperson for Montclair State University who provided a statement noting, "Jacksonville Chapel has no affiliation with Montclair State University."
"They are an external organization which rents space on campus, similar in arrangement to other groups which pay to use our venues and facilities," noted the statement.
Even before they begin renting space, Jacksonville Chapel will be helping with on-campus events, including one focused on racial reconciliation scheduled for Feb. 26 at the Conference Center.