NFL Players Would Be Shot in Head for Kneeling in N. Korea, Pastor Robert Jeffress Says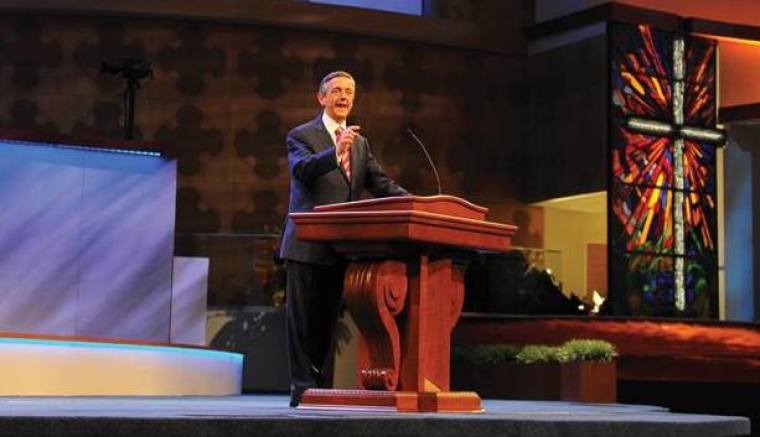 Calling NFL players and other athletes who take a knee during the national anthem disrespectful of America and its leaders, megachurch Pastor Robert Jeffress of First Baptist Dallas said Monday that they should be thankful they do not live in North Korea where they would be shot in the head for their activism.
"These players ought to be thanking God that they live in a country where they're not only free to earn millions of dollars every year, but they're also free from the worry of being shot in the head for taking the knee like they would be in North Korea," Jeffress said in an appearance on "Fox & Friends." "And I think tens of millions of Americans agree with President Trump when he says they ought to be called out for this."
Former San Francisco 49ers quarterback Colin Kaepernick, 29, sparked the controversial "take a knee" movement when he began kneeling during the performance of the national anthem last season to protest police brutality and the treatment of minorities.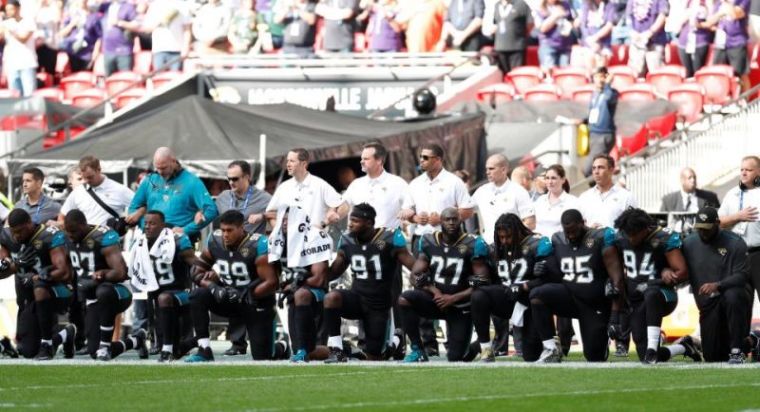 His activism attracted much attention nationally but he has since become a free agent after opting out of his contract with the 49ers in March this year. He also said that he would stand for the national anthem this season.
Kaepernick, who is a professed Christian, has Bible verses and other inspirational artwork tattooed on his body that "talk about being respected, taking on enemies without fear, letting God be the guide against doubters," according to The Mercury News.
"I got them for me and this is to show people this is what I believe in," he told the publication in 2013.
On his left triceps is an interpretation from Psalm 27:3 which promotes facing enemies without fear and being confident in God at a time of war.
"That is who he is as a person," Anthony Harding, a childhood friend, said. "I don't think any other scripture could say it better than that."
Kaepernick has remained unsigned to a new team and his supporters have argued that he remains unsigned because of his activism. Other NFL players, like Christian Cleveland Browns tight end Seth DeValve, 24, have been prompted to take a knee in support of Kaepernick. But last week, President Donald Trump called their behavior offensive and urged team owners to fire players who kneel in protest during the national anthem.
"Wouldn't you love to see one of these NFL owners, when somebody disrespects our flag, to say 'Get that son of a b**** off the field right now, out, he's fired. He's fired!'" Trump said during a campaign event for Sen. Luther Strange, according to AL.com.
Trump's comments drew impassioned responses of both support and condemnation from some of the biggest stars in sports, such as the NBA's Lebron James.
James called the president a "bum" for disinviting Stephen Curry of the Golden State Warriors to the White House because Curry told reporters that he would rather not accept an invitation to visit the White House due to the current administration's policies and rhetoric.
"U bum @StephenCurry30 already said he ain't going! So therefore ain't no invite. Going to White House was a great honor until you showed up!" James said in a tweet on Saturday that was liked 1.5 million times and shared over 660,000 times.
Jeffress, who describes himself as a personal friend of the president and also sits on Trump's evangelical advisory board, said in his Fox & Friends interview, however, that the take a knee protest and those who support it are disrespectful to the country and the nation's leaders.
"There is a better way to protest without disrespecting our country or disrespecting our country's leaders. For example, a few years ago you had those Oregon Christian bakers who were almost driven into bankruptcy for practicing their faith. That's injustice but they didn't respond by calling then President Obama a 'bum.' Or this football coach you all have covered who was fired for voluntarily praying. He didn't respond to that injustice by failing to stand for the national anthem. I think what these players are doing is absolutely wrong," Jeffress said.
He also insisted that President Trump's opposition to the protest has nothing to do with race.
"I know this president. President Trump is not a racist. For President Trump, this is not about race. It's about respect of country," Jeffress insisted.
After getting negative reactions to his comments, the Dallas pastor declared in a statement that he had no plans to back down from them.
"I stand by my comments as taken within their full context," he said, according to Mercury News. "It is an absolute fact that in many countries of the world professional athletes would be imprisoned — or worse — for publicly opposing their nation's anthem or disrespecting their national leaders. If any member of the press doubts this fact then I would encourage them to take a trip to North Korea themselves, publicly shame Kim Jong Un, and then see what happens."