NHL reconsiders LGBT pride night events as several players opt out: 'Distraction'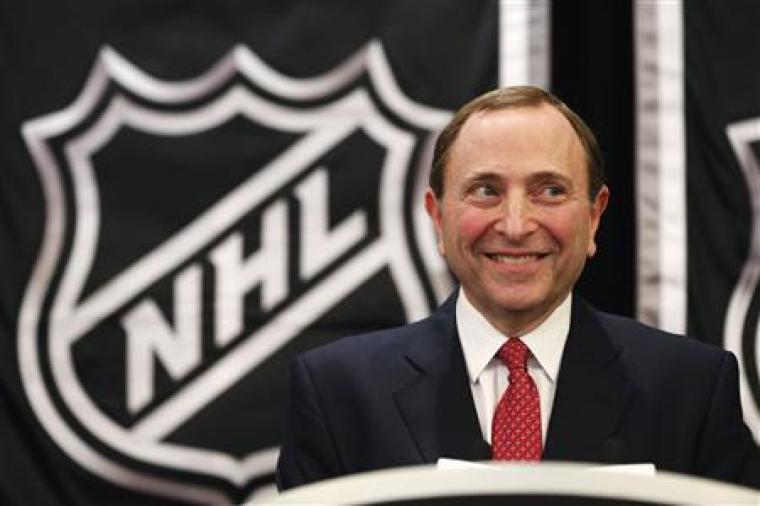 National Hockey League Commissioner Gary Bettman says the league will reevaluate its annual pride night events as several players have made headlines this year for refusing to wear their teams' jerseys promoting LGBT causes, citing religious beliefs.
In an interview Monday with Canada's CTV News, Bettman pointed to several NHL players who refused to participate in the pro-LGBT promotions this season by wearing jerseys emblazoned in LGBT rainbow colors. 
"This is the first time we've experienced that, and I think it's something that we're going to have to evaluate in the offseason," Bettman said. "This is one issue where players, for a variety of reasons, may not feel comfortable wearing the uniform as a form of endorsement."
Bettman, who at 30 years and counting is the longest-serving active commissioner in pro sports, described the controversy surrounding pride events as a "distraction" and acknowledged players' rights of conscience.
"But I think that's become more of a distraction now because the substance of what our teams and we have been doing and stand for is really being pushed to the side for what is a handful of players basically have made personal decisions, and you have to respect that as well," he said.
The protests started in earnest in January when Philadelphia Flyers defenseman Ivan Provorov refused to participate in his team's LGBT pride night commemoration, citing his conviction to "stay true to his religion" as an Orthodox Christian.
Provorov willingly sat out as the rest of the Flyers engaged in pregame warmups and a pride celebration.
Just two weeks later, the New York Rangers made a surprise decision to ditch their rainbow jerseys for a pride event.
The team issued a statement on Jan. 28, which read: "Our organization respects the [LGBT] community and we are proud to bring attention to important local community organizations as part of another great Pride Night. In keeping with our organization's core values, we support everyone's individual right to respectfully express their beliefs."
In response, media outlets, such as Sports Illustrated and The Athletic, accused the Rangers of "bungling" pride night and warned that any "retreat on Pride Night" would send a "somber message to younger, closeted players."
Last week, San Jose Sharks goalie James Reimer boycotted pregame warmups, saying the team's decision to wear NHL pride-themed jerseys went against the teachings of the Bible and his "personal convictions."
Reimer, 35, did not play in the March 18 game against the New York Islanders after the team released a statement on his behalf. He said that while he has "no hate in my heart for anyone," he would not "endorse something that is counter to my personal convictions which are based on the Bible, the highest authority in my life."
While no official figures have been released, in July 2021, the NHL announced Nashville Predators defenseman Luke Prokop officially became the first NHL player under contract to come out as gay.
Prokop, who the Predators selected in the third round of the 2020 NHL Draft, made the announcement in an official NHL statement, saying, "Today I am proud to publicly tell everyone that I am gay."
"It has been quite the journey to get to this point in my life, but I could not be happier with my decision to come out," he said. "From a young age I have dreamed of being an NHL player, and I believe that living my authentic life will allow me to bring my whole self to the rink and improve my chances of fulfilling my dreams."
At that time, Bettman supported the announcement, saying: "People, unless they can be their authentic true selves, can't be the best they can be. … Anybody who is connected to the NHL, whether it's front office, whether it's coaching and player development, whether it's players, we want everybody to know that whoever you are, you have a place in our family."